Ethiopian Birr
Today, Ethiopia is known as one of the fastest growing economies not only in Africa but in the world.
The Ethiopian Birr is also raising its profile in the international finance market.
A government intent on development at any cost and a bright population hungry for change are behind this rapid growth in the economy.
Yesterday's negative image of a famine struck country has slowly started to transition its way into the pages of history, where they are bound to stay.
Aside from being among the top in the world in coffee, livestock, and various other agricultural commodities, Ethiopia is now also engaging in the industrial sector, one that has a huge potential for a country so rich in resources.
Furthermore, the growth is fuelled by aggressive expansion by huge public expenditure on hydroelectric power dams, electric railway systems for city transport as well as to ports in Djibouti, and a sophisticated highway road system being built across the country.
Ethiopia is also looking very attractive to international investors, and the Chinese, Turkish, Saudis, and Indians are already among those heavily invested in this fast growing economy.
Due to these reasons and more, the Ethiopian Birr will surely have its prominence in the international market increase.
The following are 10 incredible things to know about the Ethiopian Birr, for both Ethiopians and foreigners alike.
---
Update - New Ethiopian Birr Note Currency
---
---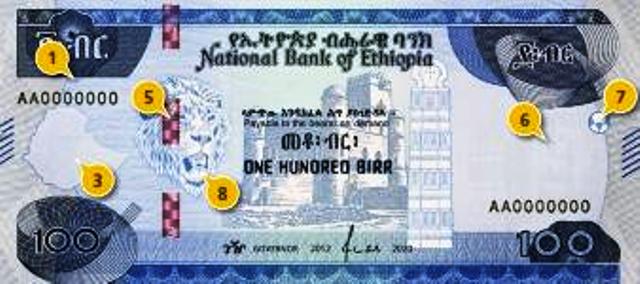 ---
---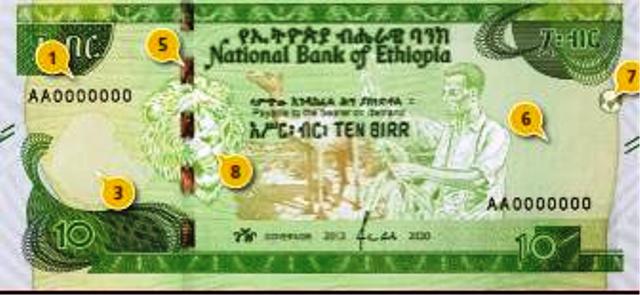 ---
Prime Minister Abiy Ahmed of Ethiopia announced the unveiling of new Birr notes for 10, 50 and 100 denominations, with introduction of a new Birr 200 note.
The new notes will curb financing of illegal activities; corruption & contraband. Enhanced security features on the new notes will also cease counterfeit production.
---
1. The Ethiopian Birr Black Market Thrives
---
---
Although, conducted in secrecy, it is rumored that there is a flourishing Ethiopian Birr black market currency exchange within the country.
At the time of writing this, the official dollar to Ethiopian birr exchange rate was 32.92 birr and the black market exchange rate was 44.90 to 46.00.
The numbers clearly show how one could be tempted to use such illegal services, with increases of up to 13 birr compared to the official numbers.
But of course, we advise you to stay away from these illegal services as they are unregulated and could cause you jail time, a fine, personal injury, loss by theft, etc.
---
2. Printing Ethiopian Birr in the Sudan
---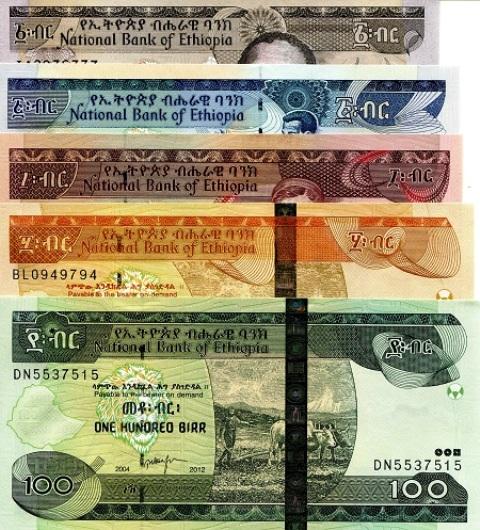 image credit: ebay.com
---
It is believed that for as long as the latest Ethiopian Birr has been in circulation, unnamed European companies were behind the printing of the Ethiopian Birr notes.
The Germans and French being among those likely to be behind the technology of printing notes with security features such as holograms, watermarks, etc.
The Ethiopian government in a surprise move has been rumored to be investigating moving the printing of the Ethiopian Birr to its neighbor in the Sudan.
The NBE or National Bank of Ethiopia, the body responsible for the Ethiopian Birr notes was in talks with a private Sudanese company which prints all Sudanese currencies for the CBS or Central Bank of Sudan.
3. Counterfeit Ethiopian Birr Becoming More Common
---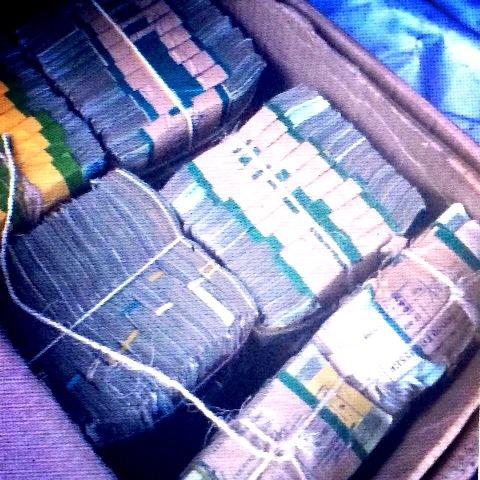 ---
Although, counterfeit Ethiopian Birr banknotes remain extremely rare, due to the increase in printing technology, sightings are becoming more and more common.
Aside, from the odd homemade articles, organized crime from foreign countries are also attempting to smuggle the fake Ethiopian Birr notes into the country.
Just recently, a car was stopped with its trunk full of hundreds of thousands of forged Ethiopian Birr banknotes of the 100 denomination.
---
4. US Dollar and Ethiopian Birr Traded at 2 birr
---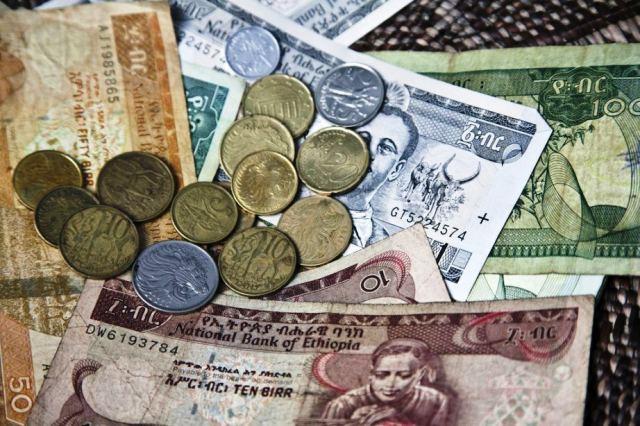 image credit: africannews.com
---
The fall of the Derg regime and the development of a new government is the reason we chose 1992.
Between the years of 1992 and 2018, the US Dollar traded at a historical high of 27.41 on December 2017 and a historical low of only 2 on May, 1992.
---
5. Ethiopia Used Blocks of Salt as Currency
---
---
"Amole Tchew" or blocks of salt were used as currency during the 18th and 19th centuries.
Maria Theresea thalers were also being used, with the thaler called "birr" or silver.
By 1855, the Maria Theresa thaler was officially adopted, but Indian rupees and Mexican dollars were also widely used.
---
6. The NBE or National Bank of Ethiopia Devalued the Ethiopian Birr by 15%
---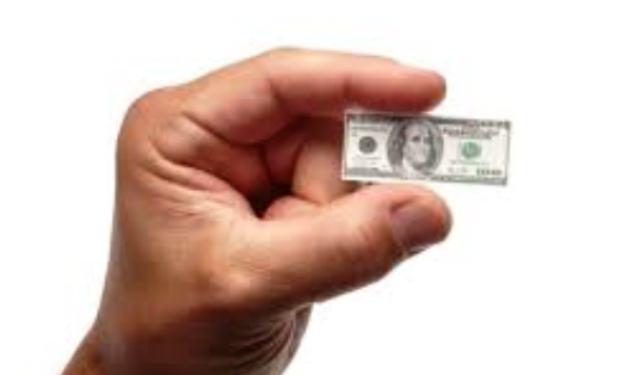 ---
On October 11, 2017, the Ethiopian Birr was officially devalued by 15%.
It is believed that since investment return is very high in Ethiopia, it will not adversely affect imports and cause inflationary pressure.
Proponents of this move, claim it will help boost the export sector's earnings, ease the national debt burden and reduce foreign exchange shortages.
---
7. Emperor Haile Selassie I Bought Ethiopia's First Bank
---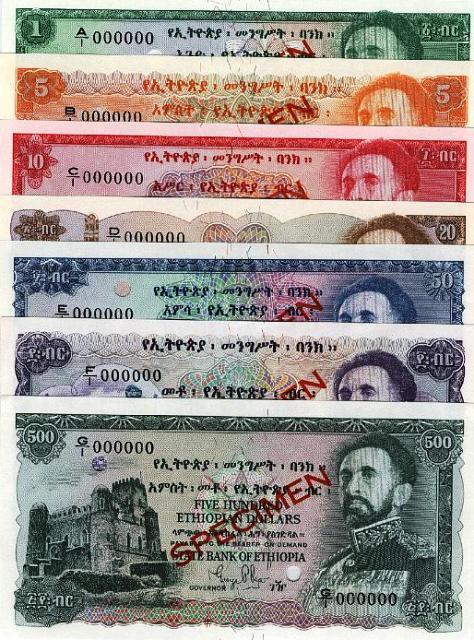 ---
His Imperial Majesty Haile Selassie I bought Ethiopia's first bank, the Bank of Abyssinia in the year 1931.
He reportedly paid 235,000 British Pounds in an attempt to reorganize the institution and make it a wholly Ethiopian enterprise.
The Emperor also renamed the Bank of Abyssinia as Bank of Ethiopia.
---
8. Ethiopia's First Birr Banknotes were in Amharic and French
---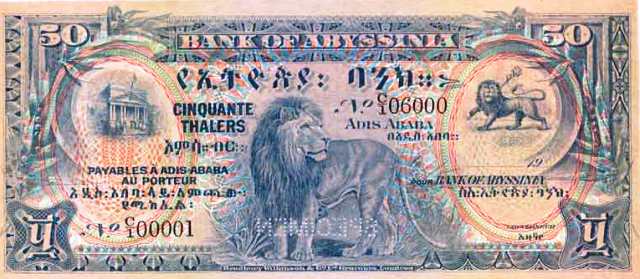 image credit: pjsymes.com.au
---
Banknotes with denominations of 5, 10, 50, 100, and 500 were printed with the text consisting of both the Amharic and French languages.
---
9. Despite Extremely High Exchange Rates, Occupied Ethiopia Still Kept its Ethiopian Birr and Coins
---
---
The Italian Lira was introduced in Ethiopia in July 15, 1936, during Italy's attempt at creating an Italian East Africa Colony.
The Ethiopian Birr banknotes were withdrawn from circulation at prices reaching as high as 1 to 13 but still many patriotic Ethiopians held on to their Ethiopian banknotes and coins looking forward to their return.
---
10. A European Banking Group behind Ethiopia's first bank and Egypt's National Bank
---
---
Ethiopia and her age old nemesis Egypt share more commonalities than they would rather acknowledge.
In this instance a European banking group, upon creating the National Bank of Egypt joined forces with Emperor Menelik and created the first Bank of Abyssinia on February 16, 1906.
---