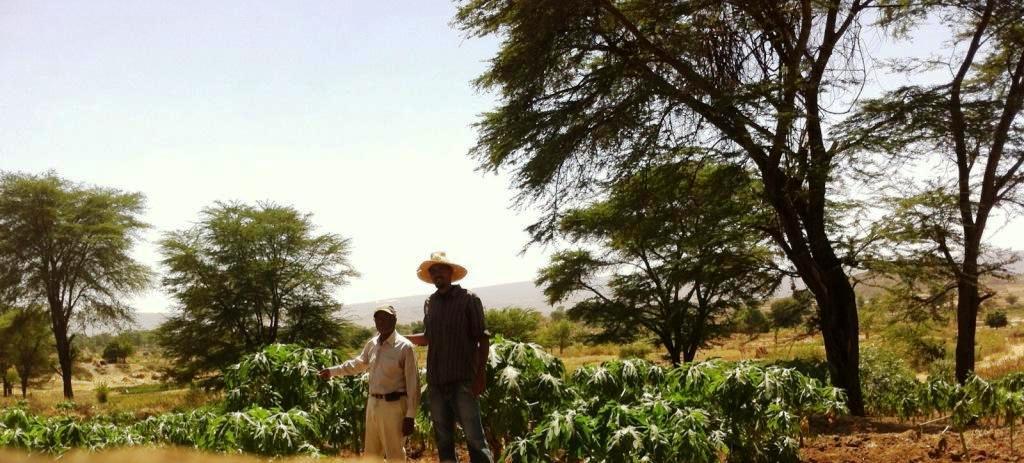 Farming in Ethiopia
Most city dwellers have an inner longing for leaving the hectic and stressful city behind and going "country". By this I mean, acquiring some land, a home nearby or on the farm and beginning a new agriculture focused venture interacting with nature itself.
It could be raising livestock, farming vegetables, bee keeping, etc.
Whatever the chosen undertaking is, it will always be projected in our minds as peaceful, with plenty of fresh country air to breathe and a nice relaxing yet fulfilling life.
Truly, getting back to nature has always held a significant amount of appeal to the urban weary and this led us to pursue farming in Ethiopia.
A few years back, I got the inclination to abandon my hectic city life in which my IT career left me choking with tech here, tech there, tech everywhere.
I conducted a preliminary yet primitive search in cities across Ethiopia and settled on choosing land around the Harar, Jijiga, Dire Dawa, and/or Eastern Hararghe/Oromia areas.
One of my main motivators for choosing this region is rooted in the fact that my father is originally from this part of the country; more specifically he is a Dire Dawan.
But as fate has it, and after appealing to the aforementioned father to join me in the farming venture, we settled on a piece of land close to a Menschen fuer Menschen village.
It is a valley with rivers and water wells that run abundant.
---
---
Our farm is located only a short distance from Harar city and not too far from both the Babile Elephant Sanctuary and the city of Babile itself.
And so began the slow process of the transformation of two city slickers into bona fide country bumpkins.
---
---
To make a long story short, one of the most taxing parts of the venture was dealing with the bureaucratic process, and all its time wasting, useless, irksome, someone shoot me please aspects.
The federal government offices, the regional offices, the woreda offices, the head office of the development bank, the regional offices of the bank, the investment office and the list goes on.
Each one of these offices were conflicting with each other and sending us in a maddening spiral of bewilderment.
We often found ourselves teetering on the edge of despair and just as swiftly returning to being confident only to be let down once again.
With that being said, I have to take a moment to thank the few competent and very helpful bureaucrats we did encounter.
Eventually, through much persistence on our part, thirty hectares of land was given to us and we began our lives as farmers in Ethiopia.
After all, the point of this whole exercise was to eventually return to nature in Ethiopia, the land of origins.
As we jumped right into the actual farming or agricultural experience in Ethiopia; we first cleared and prepared the virgin land given to us and in due course, began hiring the locals as our workforce.
The area is largely inhabited by Oromos, Somalis, and Oromo Somalis.
Many of the Somali's in our area had opted to move to this region of Oromia and had already begun to assimilate into the society.
Most people are unaware that Ethiopia's Somali region is quite well known for onion farming and we had our pick of skilled laborers.
We are also located nearby to a small village created by the Austrian/German actor Karlheinz Bohm or Karl Bohm who ran an aid organization called Menschen fuer Menschen.
Some of our workers who came from this village were taught Amharic in the schools setup by the NGO, and could easily communicate with us as opposed to the other locals who only spoke Oromiffa and/or Somali.
Very few in that area had ever ventured as far as the nearby city of Babile let alone visit the capital of Ethiopia; Addis Ababa .
---
---
To say the local inhabitants were largely secluded and lived a primitive way of life that hadn't seen change in generations, would not be an exaggeration.
Using excavators we opened up roads, built ditches, helped some of the subsistence farmers clear their land and in turn the community started to use the roads to engage in commerce with nearby cities.
By opening up their communities to the modern world, progress was definitely being witnessed.
In due course, we earned the respect of the local community but in the process infuriated the other agricultural investors in the area.
We would hand out gloves, shoes, better farming implements to better protect the laborers suffering from the thorny bushes and cactus plants that inevitably grow in that part of the country.
Another thorny issue of contention was our increasing the daily wages paid to both male and female laborers.
---
It was the right thing to do and all the investors eventually adapted to the change.
The next three years brought adventure after exciting adventure, not all positive mind you.
In summary, we had a herd of elephants tramp right down the middle of our farm and kill a young boy, we had fierce battles with the local population of monkeys who always ended up winning and running off with our papayas and other goodies, we had an elderly woman throw rocks at our excavator claiming we were encroaching on her land, we had local kids running mission impossible nighttime retrieve and evade missions focusing on our watermelons and somehow evading all the guards, there was a camel that just hated the way I looked and every time he passed by he would try to either run me down or bite me.
Aside from wars there was also pestilence as diseases ravaged our tomato plantation and we had marathon events as we ferried back and forth from plantation to market attempting to sell all we could before the plague ran its course.
---
---
There were floods that cut us off from the city, there were snakes and other wild animals attacking our workers, and so on.
To say life as a farmer in Ethiopia was not exciting would be a bold faced lie.
Today, we are content to be part-time farmers; we grow tomatoes, onions, haricot beans, papaya, mangoes, watermelons, chili peppers, etc.
---
It's a fulfilling occupation that leaves you with the feeling of having really accomplished something great.
---
---
Although, currently we alternate between the country side and the city, being a fulltime farmer even for such a short period of time is something I shall forever be grateful for experiencing.
---