Ethiopian Taxi and Ride Services
In 2010, Uber began as a cab/taxi-hailing app and company and by 2021; it has become one of the world's largest transportation companies.
It was based on the shared economy principle, in which ride-hailing apps are the best example of collaborative consumption, in that all stakeholders need to be invested in the model for it to grow exponentially.
To put it in context, the world renowned investment firm, Goldman Sachs, has estimated that the world ride-hailing market is predicted to grow eightfold to $285,000,000,000 (billion) by 2030.
Following Uber's example, Ethiopian ride hailing companies have followed in their footsteps and launched in the Ethiopian market bringing all Ethiopians a new way of commuting.
The top 10 ride hailing apps in Ethiopia created by some of the best e-commerce companies have made traveling and everyday commuting much safer and easier.
---
Related: 16 of the Best Ecommerce in Ethiopia 2021
---
Choose the Uber-like company and app in Ethiopia that meets your requirements and enjoy a timely and comfortable ride in Ethiopia's capital city Addis Ababa or in some instances the surrounding environs.
Online ride booking apps in Ethiopia have modernized travelling, and best of all they have made it cost effective and trustworthy.
No more haggling about prices and destinations, or arguing about the cost increase if your destination is uphill or on an unpaved road.
Now, whether you are at the office, mall, airport, or anywhere in the city, thanks to the ever evolving technology, booking a taxi has become a breeze.
Taxi services are one of the best ways to travel in Ethiopia now, especially due to the onset of the COVID-19 epidemic.
Smartphones have also led the way in truly changing the way taxi services operate today in Ethiopia.
Apps such as RIDE have become the perfect tool and have also actually made traveling a lot more enjoyable.
With this in mind, we prepared the following list of the best ride hailing apps in Ethiopia, to help you find the right company and Uber-like taxi service in Ethiopia.
As metered taxis have also helped to change the transportation landscape in Ethiopia, we have also included them.
---
Top Ride and Taxi Services in Ethiopia
---
---
About RIDE
---
Samrawit Fikru, born in Assela, is the brains behind Hybrid Design, the company that owns and operates the most popular ride or taxi hailing app in Ethiopia, RIDE.
The idea to become a tech innovator came to her while she was working in a store which sold music CD's that did not have a mechanism for recording each sale.
At the time she was a student in HILCOE College, and decided to create a point of sale software system.
After various jobs in the tech industry, she began a company that offered an SMS based on demand taxi ride hailing service, which soon grew to a mobile app that has been downloaded over fifty thousand times, adopted by dozens of taxi associations and used by over six thousands individual drivers.
Samrawit claims that she had not heard of the world renowned Uber app based ride hailing service when she decided to develop the RIDE app.
---
Services Offered by RIDE
---
RIDE is a transport hailing and booking platform in Ethiopia, that can be accessed by calling their dispatch center at 8294 (spells taxi on the keypad), or by using their RIDE free passenger app.
RIDE has a pool of over 6,000 vehicles on standby, on every corner, to service your needs, 24 hrs a day, 7 days a week, including holidays. You can also pre-book a RIDE days ahead.
You can book or hail a RIDE as follows:
1. Set your initial location on a map.
2. Set your destination location on a map.
3. Set the payment and booking schedule, and confirm. Drivers accept cash.
A nearby driver will call you after accepting the order to verify your exact location.
You can also view the driver's picture, vehicle license plate and side numbers, and a brief info on the driver.
After completing a trip, you can request a paper-based receipt, or review the e-receipt sent out to your email automatically, upon payment confirmation.
You can call 8294 or use the RIDE Passenger App to begin.
Passenger App/ online booking Features

* Displays available online drivers live on a map

* Allows users to hail RIDE on demand or pre-booked for later use

* Past current and future trip history with detailed pieces of info such as driver name, license plate, trip distance, amount charged, duration and method of payment

* E-receipt through an email showing detailed trip route and info

* E-wallet to manage prepaid credits and redeemed coupons Online platform

* Book online on a desktop and manage trips live

* Review and manage E-wallet and corporate accounts

* Consolidated past trip history with detailed pieces of info such as driver ID, license plate, distance travelled marked on a map, amount charged, duration and exact time of service, method of payment and rating of driver

* Full periodical digital reports and cab print out receipts to corporate and individual users to budget efficiently
---
Contact
Office Address: Sheger Building, Bole Road, Addis Ababa, Ethiopia
Telephone/Mobile: 8294
Official Website: https://ride8294.com
---
---
About ZayRide
---
ZayRide, was released in 2016, by the founder Habtamu Tadesse using his parent company ZayTech (develops websites and mobile apps for firms in Asia and the United States).
Although, ZayRide is not the first taxi-hailing service in Ethiopia, it was the first to launch taxi bookings via an app instead of text messages or phone calls, as RIDE was when it began.
Today, in its comfortable position as the second largest ride hailing service in Ethiopia, it is expanding to the Liberian capital of Monrovia, through a joint cooperation with Liberian web solutions firm Hak Technologies.
Their new venture into Liberia was made possible after ZayRide secured funding from both local and international investors following their previous crowdfunding efforts.
ZayRide will introduce two hundred cars to begin this venture.
In Ethiopia, they also plan to supplement their delivery services, with an on-demand ambulance service.
The company has not stopped here; they also are arranging to alleviate the problem of costs and logistics involved with paying cash for rides, by using its own mobile point of sale called ArifPay.
---
Services Offered by ZayRide
---
ZayRide is based in Addis Ababa, and is a customer centric, on-demand taxi service offering fast, convenient service throughout the capital city.
They offer fully licensed, experienced drivers who have had a thorough background check to ensure the safety of their passengers.
ZayRide ensures their taxis are clean, comfortable and well maintained.
Their vehicles have a built-in meter that counts per distance and time, so customers know how much they will pay before they arrive.
24/7 Call Center Accessed by Dialing 6303.
How The App Works
1. Request

Tap each ride option to see wait time, size, and price. Then enter your pickup location and tap request...your driver will arrive in minutes.

2. Ride

Your ride comes to you. You will see your driver's contact information and vehicle details in the app, so you know you will be getting in the right car.

3. Pay and go

After arriving you can rate your driver and ZayRide will automatically charge the credit card on file if you have one, if not you pay with cash or mobile money.
---
Contact
Office Address: Bole, Mafi Mall Rm #602, Addis Ababa, Ethiopia
Tel: 6303 | Office +251 116 721 052
E-mail: [email protected]
Official Website: http://www.zayride.com/
---
About ETTA
---
ETTA or Ethiopia Taxi, another taxi hailing service was founded by Temesgen Gebrehiwot Araya and Ambaye Michael Tesfay under their parent company, ETTA Solutions Plc.
ETTA is arguably the third largest taxi ride hailing service in Ethiopia, but is definitely one of the oldest.
---
Services Offered by ETTA
---
ETTA is a taxi hailing/ridesharing app that helps connect taxi drivers and transport seekers.
They strive to provide both customers and drivers with a better alternative to getting around the city by offering the cheapest, fastest, safest, and most reliable option for public transportation.
They serve Ethiopians through a mobile application which is now available on Google Play and Apple's App Store, and through their 24/7 call center, which can be accessed by dialing 8707 from any phone.
---
Contact
Tel: 8707
Website: https://www.f6s.com/ettaethiopiataxi
---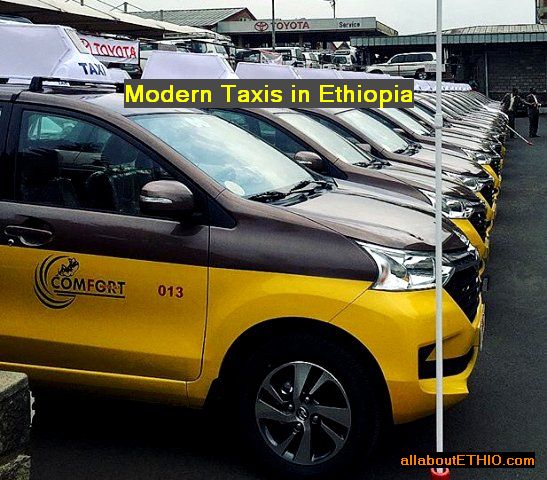 ---
---
About Addis Meter Taxi
---
Addis Meter Taxi is a private limited company established by a group of investors to help fill Addis Ababa's significant transport problem.
The co-founder and CEO is Dereje Mekonen a hospitality and travel consultant, while the managing director and co-founder is Yonas Mulate, who is the former President of the Addis Ababa Taxi Owners Association.
They are the first to have begun their company using luxurious brand new vehicles.
Addis Meter Taxi is known for providing a better city and airport travel experience, by combining first-class vehicles, professional and respectful drivers that meet our background checks and a real dedication to customer satisfaction.
---
Services Offered by ETTA
---
Addis Meter Taxi has a dispatch service which is available by calling +251 94 554 5454 24 hours a day, 7 days a week.
They also provide:
* AIRPORT TRANSFER

* TAXICAB SERVICE

* PRIVATE HIRE

* EVENTS & SPECIAL OCCASIONS
---
Contact
Tel: +251 94 554 5454
Official Website: https://www.addismetertaxi.com/
---
---
About Ze-Lucy
---
Ze-Lucy Meter Taxi Share Company, is made up of a group of eighteen Ethiopian taxi associations, that have come together to launch an independent web based taxi-hailing platform.
The company, has its own call centre, and has equipped about 751 taxi cabs with the meter technology.
These vehicles were purchased from Yangfan Motors Plc., a local subsidiary of the Chinese Lifan Motors company.
Ze-Lucy Meter Taxi began its operations in the hope that they would partner up with Hybrid Designs Plc. (owner of RIDE), to use their technology and operate in a profit sharing scheme, unfortunately, things did not go as planned.
Ze-Lucy began to use Hybrid's tech in their taxis as a pilot program for one year, in which the taxis would not pay commission for the service.
A couple of years back, Ze-Lucy made a deal with Hybrid Designs Plc. Hybrid provided and implemented the technology that was used by the meter taxis, and the project was piloted for one year, while the taxis were not paying commissions for the service.
Hybrid Designs and their CEO Samrawit Fikru claims that she provided Ze Lucy with the payment free tech for a period of one year, and when the time came request commission, Ze Lucy refused.
Ze Lucy on the other hand claims that their deal was to discuss and decide the commission percentages upon reaching the expiration date, but Hybrid Designs unfairly imposed a 17 percent charge with no negotiations.
The case went to court, and eventually both companies parted ways.
Today, Ze Lucy Meter Taxi works with ATN Technology Plc, an IT company based in the US, which developed the new tech (which they rented from Google and had it customized for local use) after signing a five-year agreement.
The 2 companies agreed to share the 6% commission that they will earn from the drivers for using their technologies.
Ze-Lucy and ATN will get 70% and 30%, respectively, from the 6% commission.
---
---
About Taxiye
---
Taxiye, launched in 2019, is an Ethiopian e-commerce transportation platform that provides Uber-like ride hailing services in Africa.
Elnet Technology Plc., which is part owner of the company, is behind the innovative tech used by Taxiye.
Taxiye, has already established offices and began operations all over Ethiopia, and furthermore, they have opened up offices in Kenya, Tanzania, and Uganda.
---
Services Offered by Taxiye
---
Taxiye is claims to be a one-stop solution for all transportation needs, by providing the best service possible.
Reliable Services

With the Taxiye app you can immediately book Taxis and get rides easily and in a timely manner.

Instant Booking

With the Taxiye app you can immediately book Taxis and get rides easily and in a timely manner.

Safer Rides

Safety is their priority. They want to ensure clients feel safe during trips and have implemented multiple safety measures in effect.

Pocket-Friendly Fare

Delivering comfy rides at an affordable price is their sole motto as a way to serve the community.
Get a Ride with a Tap

Book a taxi in with a few taps on your smartphone and get a ride.

Professional Drivers

Hire taxis driven by professional drivers who are well-trained and verified.

Range of Vehicles

Choose from a wide selection of vehicles that Taxiye offers for client's convenience.
---
Contact
Office Address: Yerer Leka Building, Addis Ababa, Ethiopia
Tel: 6055
E-mail: [email protected]
Official Website: https://www.taxiye.com
---
---
About Pick Pick Taxi
---
Resel Pick Pick ICT Technologies Plc. is the technology behind Pick Pick Taxi, which is also working with Yokida Consults and Belayab Motors.
They have began selling 1,000 Glory 330 MPV (multi-purpose vehicles), which are 7-seater metered taxis.
All these taxis come equipped with innovative tech, such as, 360-degree cameras, Global Positioning System (GPS), and seat sensors.
Existing meter taxis in Ethiopia are charging about 10 ETB/0.29 USD per kilometer, while Pick Pick will charge only 2.15 ETB/0.6 USD per kilometer for an individual with a total fee of 13 ETB/0.38 USD for 6 passengers.
Furthermore, Pick Pick does not have a service charge, unlike the existing meter taxis which charge an additional 50 ETB/1.47 USD on the total travel charge.
The total cost of one taxi is 598,000 ETB/17,588 USD, and the buyer is only required to pay 198,409 ETB/5,835 USD as a down payment and a 2% charge as a service fee for Pick Pick taxi of 11,960 ETB/351 USD.
The owners of the taxis will earn a monthly stipend of 7,500 ETB/220 USD and do not have the right to demand extra earnings and profits from the taxis.
In 8 years it is expected the owners of Pick Pick Taxi shall earn about 720,000 ETB/21,176 USD. Pick Pick Taxi claims they adopted this system from companies operating in the cosmopolitan cities of New York and Dubai.
---
---
About Feres
---
Ferese is an Ethiopian ride sharing app that hopes to design products and services that are affordable for people of all income levels.
They plan to do this by solving real world problems affecting people in Ethiopia.
Feres plans to create income and business opportunities by creating a trusted platform of services employing the highest standards on safety and information security.<p>
---
Services Offered by Feres (Call 6090)
---
Reliable fare price

Feres offers you peace of mind in knowing that any delays will not increase the price of the ride.

Licensed by Local Authorities

Your Feres ride is legal and protected by local authorities.

Plenty of nearby drivers

The highest chance of getting a taxi coupled with a shorter waiting time when booking through Feres.

Multiple Payment Options

Weather you pay by cash or with mobile money, Feres has several payment options available for you.
Economy

* Capacity: 4 seater

* Model: 2001 and above

* City authority certified

* Accepts Ebirr or Corporate Account payment

Minivan

* Capacity: 7 seater

* Model: 2001 and above

* City authority certified

* Ideal to transport people and luggage

* Accepts Ebirr or Corporate Account payment

English Speaker

* Capacity: Both 4 & 7 seats

* Model: 2001 and above

* City authority certified

* Accepts Ebirr or Corporate Account payment

* Vetted English speaking drivers with deep know-how of city setting

* Highly professional and courteous to your needs
Choose car type

*Setup your pick up location with one tap and choose your preferred Feres service.

Meet Your Driver

*Track your driver on the way. Feres will share with you details of the car and the driver.

Pay how you want

*Pay by Mobile money, Cash, Credit Card or use your Feres rewards.

Rate your driver

*Feres wants to know your experience. By rating, they hope to make your next ride better.
---
Contact
Office Address: Getu Commercial Business Center, Airport Road, Addis Ababa, Ethiopia
Tel: 6090
Email: [email protected]
Official Website: https://feres.et/
---
---
About Hello Taxi
---
Hello Taxi is an Ethiopian ride sharing application company that was founded by its sister company, Cloud Worldwide Trading Plc.
It took the company three years to develop the tech necessary to power their app, which uses GPS and Google Maps.
The service can also work offline by using a call center for a small additional cost.
Hello Taxi, in collaboration with Prince Import-Export Company and Marathon Motor Engineering, will deliver 2016 Toyota Yaris and 2019 Hyundai vehicles for those willing to join the Hello Taxi team.
Women and owners of the old blue Lada's seen all over the city will get a special discount, while the disabled shall be entitled to interest free loans.
Everyone else will purchase these vehicles with a 30% down payment to be paid off within 5 years at normal interest rates.
30% percent of the purchase price for a down payment fee. The rest is covered by a loan with Abyssinia Bank, which they must pay off in five years at a normal interest rate.
People who have disabilities are an exception to this rule; they are entitled to interest free loans.
Hello Taxi plans to expand their operations to cities in Ethiopia such as, Bahir Dar, Adama, Mekele, Hawassa, among others.
---
---
About Catch Taxi
---
Catch Taxi is another Ethiopian owned and operated entrant in the ride-hailing startup apps scene in East Africa.
They offer on-demand taxi services through their mobile application and believe that local ideas and talents are the best ways to improve the lagging transportation industry in Ethiopia.
---
Services Offered by Catch Taxi
---
How Catch-taxi works
*1

Request a Trip

Choose your pickup and drop-off location, and the trip type that meets your needs

*2

Match with a Driver

Catch-taxi will match you with the nearest available driver

*3

Enjoy Your Trip

Meet your driver with the help of their real-time GPS services.

*4

Pay and Rate

Pay with cash or card and rate your driver
Our Drivers

Catch Taxi trains drivers extensively on customer care to ensure that customers have the best possible experience.

Our Services

Catch-Taxi currently offers 3 categories of services: Lada, Easy, and XL, which is according to vehicle size and type. Lada and Easy taxis hold up to 4 passengers and the XL up to 7. The Lada class brings you the best prices in town, while Easy taxis are for those who prefer additional comfort.
---
Contact
Office Address: Cameroon Street, In front of Medhanialem Church, Beza Building, 3rd floor, Addis Ababa, Ethiopia
Tel: +251 94 406 7092 / +251 94 406 7050 Official Website: https://www.catch.et
---