---
Shopping in Ethiopia
Does the idea of shopping in Ethiopia for your next vacation, excite you?
First time visitors to Ethiopia are often awe struck by the numerous places to go shopping, especially in the capital city of Addis Ababa.
---
The Best Shopping Locations in Ethiopia
---
In the major cities of Ethiopia, there exist a plethora of upscale and expensive designer boutiques, galleries, and western-style shopping malls, all fighting to attract your newly exchanged Ethiopian Birr.
Local crafts and folk arts are certain to catch the eye, as the wide collections of beautifully made items can be found in certain areas of the city.
In areas such as these, it is normal to haggle with the vendors, offering them prices as low as 50 percent discounted from the asking price.
Eventually the both of you shall reach an agreement.
---
Shopping in Addis Ababa
---
Shopping for pottery, woodcraft, even traditional clothes will reveal ancient techniques and modern skills that will surely excite the connoisseurs.
Since creative people from all over the country are drawn to the capital city of Addis Ababa, you will definetly encounter items that are beautiful and unique.
Whether you are looking for ultra modern items, or more traditional items, shopping in Ethiopia will not disappoint.
From open air markets such as Mercato to the many newly built western-styled malls, one will be glad they opted for taking this trip.
We have prepared the following list of the best shopping malls and places in Ethiopia, and more specifically in Addis Ababa.
---
---
Official Website:
ednamall.co/
- Telephone or Mobile Number: +2519 11-161316
---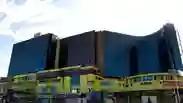 ---
Africa Ave, Addis Ababa, Ethiopia
---
---
Official Website:facebook.com/Zefmesh/ - Megnagna, Dispora Roundabout, Kenenisa Ave, Addis Ababa, Ethiopia
---
Telephone/Mobile Number: +251 11-1 249766
---
---
Official Website:
facebook.com/SHOA-Shopping-Center
- Africa Ave, Addis Ababa, Ethiopia
---
---
Official Website:
facebook.com/MafiCityMall
- Cameroon St., in front of Bole Medhanialem Church, Addis Ababa, Ethiopia,
---
---
Official Website:
laphto.com/
- Old Airport, Next to Bisrate Gebriel Church, S Africa St., Addis Ababa, Ethiopia
---
---
Official Website:
morningstarmall.com
- Behind Edna Mall, in the Bole Medhanialem area, Addis Ababa, Ethiopia
---
---
Official Website:
dhgeda.com/
- Bole Road, Addis Ababa, Ethiopia
---
Ethiopia's Best Shopping Places
---
---
Type: Street Markets and Flea Markets in Addis Ababa, Ethiopia, Address: The shops are located in the Merkato area of Addis Ababa, Ethiopia
---
---
Official Website:
salemsethiopia.com/
- Type: Gift Shop and Specialty Store, Address: Around Medhanialem Alem Church close to Edna Mall, Addis Ababa, Ethiopia, Phone/Mobile: +251 91 164 5619
---
---
Official Website:
facebook.com/tandhdesigns/
- Type: Gift Shop and Specialty Store, Address: South Africa Street, Adot Building, Old Airport, First Floor, Addis Ababa, Ethiopia, Phone/Mobile: +251 91 347 2639
---
---
Official Website:
sabahar.com/
- Type: Gift Shop and Specialty Store, Address: In the Mekannisa area, Addis Ababa, Ethiopia, Phone/Mobile: +251 11 321 5112, Hours: 9:00 AM - 5:00 PM
---
---
Official Website:
stgeorgeofethiopia.com/
- Type: Gift Shop and Specialty Store, Address: Located on Taitu Street, Addis Ababa, Ethiopia, Phone/Mobile: +251 11 551 0983 /551 8103
---
---
Type: Street Markets and Flea Markets in Addis Ababa, Ethiopia, Address: On the way to Entoto Hill
---
---
Official Website:
facebook.com/AsniGallery/
- Type: Art Gallery, Address: Located on Queen Elizabeth II Street in Addis Ababa, Ethiopia, Phone: +251 91 120 6697
---
---
Type: Street Markets and Flea Markets in Addis Ababa, Ethiopia, Address: Just off Kenenisa Ave
---
---
Official Website:
lela-gallery.com/
- Type: Art Gallery, Address: Located in the Old Airport Area in Addis Ababa, Ethiopia, Phone/Mobile: +251 91 130 0756
---
---
Type: Art Gallery, Address: Close to the National Theatre, in Down Town Addis Ababa, Ethiopia
---
---
Official Website:
muyaethiopia.net/
- Type: Gift Shop and Specialty Store, Address: P.O. Box 613, Addis Ababa, Ethiopia, Phone: +251-11-1234015
---
---