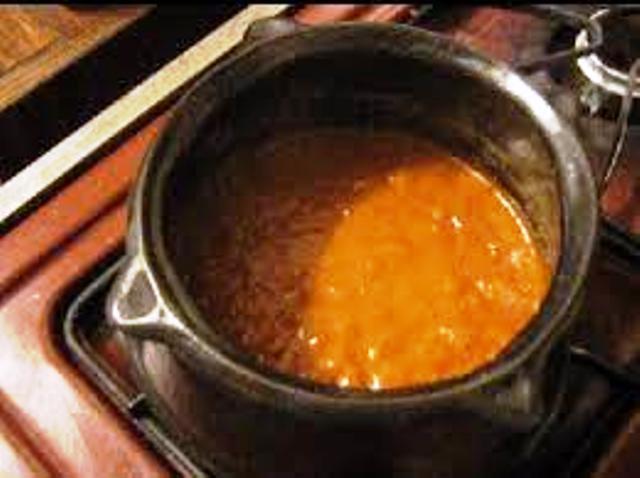 Ethiopian Shiro
Ethiopian Chick Pea Stew or Curry
One of Ethiopia's Most Famous Dishes - Prepare it now - 2 Methods
Shiro is an essential part of the Ethiopian cuisine.
It's often prepared with minced onions and garlic, but some regions even add ground ginger, chopped tomatoes and chili peppers to the chickpea flour-based mixture.
Served with injera, it's a vegan dish although some versions contain meat.
---
Measurements and Ingredients
---
2 medium onions , diced
1 tomato , pureed (or 4 oz tomato puree)
1/2 cup oil
1/2 cup Shiro powder (dried chickpea powder)
1-1/2 to 2 cups water
1 tbsp Berbere (Ethiopian spice mix)
---
Preparation Method
---
1. Start by pureeing the onions in a blender.
Dump the onion mush into a hot dry skillet.
Stir frequently until the water evaporates and the onions start to get just a tiny bit of light brown color.
Once the onions begin to color a bit, add 1/2 cup of oil and berbere.
Add 2-3 times more than the suggested amount for a stronger flavor.
2. Let onion, oil, and berbere infuse for a minute or two then add pureed tomato.
3. Before you add the shiro powder, make sure that you have the water close by.
Add your shiro powder gradually, briskly stirring. It will get thick very quickly.
Once the shiro seems pretty well mixed into the oil, add 1-1/2 to 2 cups of water. Stir well.
4. Simmer until shiro spread is at desired consistency.
Can be served with pita bread, rice, roti, or Ethiopian honey bread.
Alternative Recipe
---
Measurements and Ingredients
---
SERVES 4
3 cups of mitten shiro
3 large onion fine chopped
1 cup of vegetable oil
5 teaspoons minced garlic
1 table spoon Berbere
2 teaspoons salt
10 cups of water
---
Preparation Method
---
In your pot, simmer onion and garlic with vegetable oil.
Add berbere and simmer for about 8 minutes at low heat while adding a dash of water to avoid sticking.
Add the remaining water and mix the shiro by adding a small portion of the shiro flour at a time and continuously stirring.
---
Let it cook until it becomes thick, but runny for about 25 minutes at low heat.
Finish off your Shiro by adding a spoon of Niter Kibe.
---