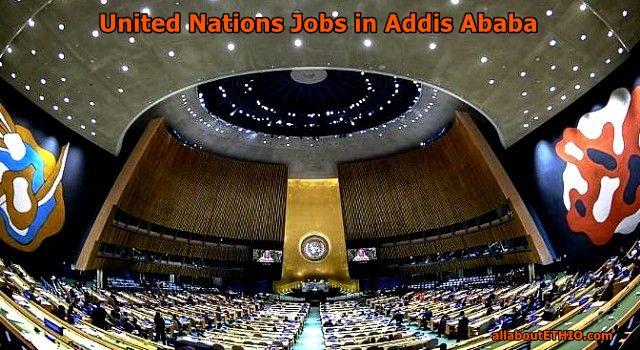 UN Jobs in Addis Ababa: Tips To Get a United Nations (UN) Job in Ethiopia
Find UN Jobs in Addis Ababa Below
---
Officially, anyone who really wants a UN job in Addis Ababa can go through the processes and become employed.
Needless to say, the UN is a place where the salary and benefits are one of the best in the world.
Studying international disease epidemics, overseeing projects that provide education to the less fortunate, providing administrative services, offering logistic solutions, taking care of security, enforcing a program to increase female's labor force participation...these are just a few of the many, many diverse job descriptions available to the UN employee in Addis Ababa.
Even though the United Nations in Addis Ababa is most known for their peacekeeping, conflict resolution, peace building programs, there are on offer many other ways the United Nations and its sister organizations or so called, special agencies with their own funding and programs.
The UN works on a broad range of issues that are closely associated with the basic needs of human beings, matters that affect our lives and make the world a better place.
Be it sustainable development, environment and refugees protection, counter terrorism, disaster relief, disarmament and nuclear non-proliferation to promoting human rights, democracy, gender equality, the advancement of women, economic and social development and international health, good governance, clearing landmines, creating ideas and implementing food production programs and much more.
The ultimate goal of the United Nation's being the pursuit of achieving their goals and to coordinate efforts for a world that is much safer for the current and future generations.
The UN in Addis Ababa is capable of accomplishing all those goals because of their size and broad reach. But due to their huge size the internal bureaucracy can become the cause of many a headache and misunderstanding.
---
Beginning Your UN Job Search in Ethiopia
---
When searching through the job postings offered as UN jobs in Addis Ababa, try to keep focused on the post that fits your current residency status.
Key words to look for are National Officer (NO) and General Service (GS), these are for locally-recruited staff members or Ethiopian nationals.
On the other hand, the Professional category employment opportunities in Addis Ababa are open to any international candidates and usually come with benefits such as free housing and educational assistance.
Expats living overseas do not qualify for the recruitment posts that are labeled "local" or "NO" unless they have the legal right and have completed the process for working in the country.
In the UN, most jobs begin as contract, temporary, or consultant level positions as opposed to being permanent staff.
---
---
Methods for Getting Jobs at the UN in Ethiopia
---
A good way to enter the UN is through the UNV program or the United Nations Volunteers.
This does not mean working for free, but the program also provides a small payment for living expenses and medical insurance for those that will work for a six to twelve month renewable contract.
The UNV in Ethiopia is offered for both nationals as well as for international hires, with the minimum age being twenty five years old.
Another good program for fresh graduates in Ethiopia with a little work experience would be the JPO or Junior Professional Officer program.
These jobs are for those under thirty five years of age and can be found in the following agencies: UNHCR, UNDP, UNEP, and UNICEF.
Furthermore, the UNHCR offers the EHP or the Entry Level Professional Humanitarian Programme for those that are under the age of forty and will work for a two year contract.
The YPP or Young Professional Program is also a great way of entering the UN in Ethiopia for fresh graduates and is offered by the UN Secretariat.
The OIP or Official Internship Program offers soon to be graduate and fresh graduates in Ethiopia the opportunity to work in several agencies as an intern.
---
Complete Online UN Jobs Database
---
We have prepared the following complete list of jobs we believe will be useful for those seeking UN job vacancies in Ethiopia.
---
- United Nations Careers is the UN Secretariat's main job site. Jobs based in the New York headquarters are found here, as are international positions in peacekeeping and special political missions. The site also has a plethora of data on the types of jobs and careers available, and the skills required.
- UN Jobs is an unofficial but helpful job site. It lists jobs position openings with agencies from the whole UN organization, searchable by city, by organization, and by job type. Furthermore you can find job listings with international NGOs (non-governmental organizations).
- International Trade Centre (ITC)
- Office of the United Nations High Commissioner for Refugees (UNHCR)
- United Nations Children's Fund (UNICEF)
- United Nations Conference on Trade and Development (UNCTAD)
- United Nations Development Programme (UNDP)
- United Nations Capital Development Fund (UNCDF)
- United Nations Volunteers (UNV) There are job postings for administration of the agency, and the volunteer positions mentioned above.
---
Related: NGO Jobs Vacancy in Ethiopia
---
- United Nations Environment Programme (UNEP)
- United Nations Human Settlements Programme (UN-HABITAT)
- United Nations Office on Drugs and Crime (UNODC)
---
- United Nations Population Fund (UNFPA)
- United Nations Relief and Works Agency for Palestine Refugees in the Near East (UNRWA)
- United Nations Entity for Gender Equality and the Empowerment of Women (UN Women)
- Food and Agriculture Organization (FAO)
- International Civil Aviation Organization (ICAO)
- International Fund for Agricultural Development (IFAD)
- International Labour Organization (ILO)
- International Maritime Organization (IMO)
- International Monetary Fund (IMF)
---
Related: Fresh Graduate Jobs in Ethiopia
---
- International Telecommunication Union (ITU)
- United Nations Educational, Scientific and Cultural Organization (UNESCO)
- United Nations Industrial Development Organization (UNIDO)
- Universal Postal Union (UPU)
- World Bank Group: this includes World Bank, International Bank for Reconstruction and Development (IBRD), International Centre for Settlement of Investment Disputes (ICSID); International Development Association (IDA), International Finance Corporation (IFC), and Multilateral Investment Guarantee Agency (MIGA)
---
- World Health Organization (WHO)
- World Intellectual Property Organization (WIPO)
- World Tourism Organization (UNWTO)