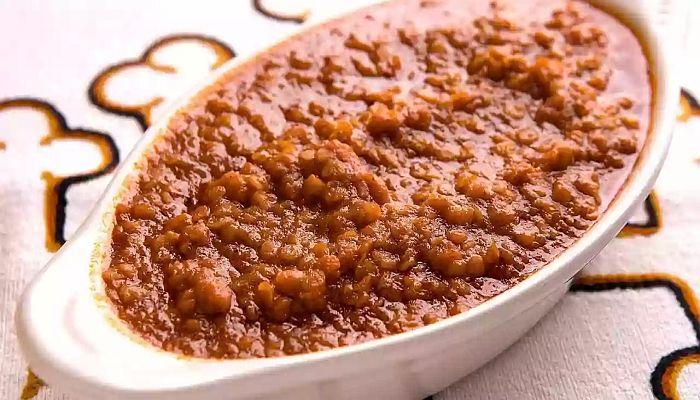 image credit: internationalrecipes.net
Ethiopian Misir Wot
Ethiopian Red Lentil Stew
Learn to Make Misir Wot with this Quick and Simple Recipe - 3 Alternatives
Measurements and Ingredients
---
NITER KIBBEH (SPICED BUTTER):
---
1 pound unsalted butter
1 tablespoon chopped fresh ginger
1 teaspoon whole allspice berries
1 teaspoon fenugreek seeds
1 teaspoon dried oregano
1/2 teaspoon turmeric
6 black cardamom pods, crushed lightly with a knife blade
2 cloves garlic, coarsely chopped
1 small yellow onion, chopped
---
BERBERE (SPICE MIX):
---
1/3 cup New Mexico chile powder
1/4 cup paprika
2 teaspoons cayenne pepper
2 teaspoons ground ginger
2 teaspoons kosher salt
1/2 teaspoon garlic powder
1/2 teaspoon onion powder
1/4 teaspoon freshly grated nutmeg
2 teaspoons black cardamom seeds
2 teaspoons coriander seeds
2 teaspoons fenugreek seeds
1 teaspoon whole allspice
4 cloves
1 small stick cinnamon
LENTILS:
---
1 medium yellow onion, finely diced (about 1 cup)
2 teaspoons minced fresh ginger
1 teaspoon minced garlic
1 cup red lentils (masoor dal), picked through and rinsed
1 teaspoon kosher salt
Injera, for serving
---
Special equipment:
a spice grinder
---
Preparation Method
---
1. For the niter kibbeh (spiced butter):
Melt the butter in a small saucepan over medium-low heat, swirling occasionally.
Stir in the ginger, allspice, fenugreek, oregano, turmeric, cardamom, garlic and onions and bring to a simmer.
Simmer until the butter is clear and the milk solids remain on the bottom of the pan, about 30 minutes.
Reduce the heat to low if the butter is boiling too quickly--if it burns it will taste bitter.
2. For the berbere (spice mix):
While the butter is cooking, whisk together the chile powder, paprika, cayenne, ginger, salt, garlic powder, onion powder and nutmeg.
Set aside.
3. Put the cardamom, coriander, fenugreek, allspice, cloves and cinnamon in a small skillet and toast over medium-low heat, shaking the pan regularly, until fragrant, about 4 minutes.
Cool slightly.
4. Grind the toasted spices in a spice grinder to a fine powder.
Add to the chile powder mixture and whisk to combine.
Sift the spice mixture onto a piece of parchment paper, return to the bowl and whisk again.
Return the pieces left in the sifter to the spice grinder and grind again as finely as possible; whisk into the spice mixture.
Set aside.
5. To finish the niter kibbeh:
Line a strainer with dampened cheesecloth.
Skim the foam from the top of the butter and discard.
Ladle the butter through the strainer, leaving behind the milk solids on the bottom of the pan.
6. For the lentils:
Heat 2 tablespoons of the niter kibbeh in a medium saucepan over medium heat.
Add the onions and cook, stirring, until golden, about 10 minutes.
7. Add 2 tablespoons of the berbere, the ginger and garlic to the pan and cook, stirring, for 1 minute.
Add the lentils and 4 cups water, stir well and bring to a simmer. Reduce the heat to medium low and simmer, uncovered and stirring occasionally, until the lentils are very soft and the mixture is very thick (like a thick porridge or split pea soup), 35 to 40 minutes.
Monitor the heat to keep the lentils at a gentle simmer; the amount of heat needed may change as the lentils thicken.
8. Remove the lentils from the heat and stir in the salt and 1/4 teaspoon of the berbere.
Cover and let sit another 10 minutes. Serve hot with injera.
---
Alternative Method
---
Measurements and Ingredients
---
4 cups of split red lintel
2 large onions fine chopped
1 cup of vegetable oil
2 teaspoons minced or powder garlic
2 Teaspoon Turmeric
2 large spoon authentic Ethiopian Berbere
2 Teaspoon salt (as needed)
8-10 cups of water
---
Preparation Method
---
In large pot, simmer onion, garlic, berbere and turmeric with vegetable oil for 10 minutes.
Add lintel and water continue to simmer for about 20-30 minutes at low heat, stirring occasionally until lintel is fully cooked.
Serve hot with Injera (Ethiopian flat bread made of teff).
---
Alternative Method
---
Measurements and Ingredients
---
1 and a half cup of Red lentils
2 cups Water
1 large Onion; finely chopped
2 tablespoons olive oil; more or less
2 cloves of garlic; minced
2 tablespoons berbere
Water
---
Preparation Method
---
For Misir Wot, cook 1 1/2 cups red lentils in 2 cups water for about a 1/2 hour.
Then, saute a large finely chopped onion in a couple tbsp. olive oil in a large skillet until clear.
Add a couple minced cloves of garlic, saute a little more, and then put in 2 tbsp. berbere mix and a little water to keep it from sticking.
Add the cooked lentils, and cook everything on low until the lentils completely disintegrate - about 1/2 hour again.
If you prefer the dish to look red rather than yellowish, sprinkle in some sweet paprika at the end.
---