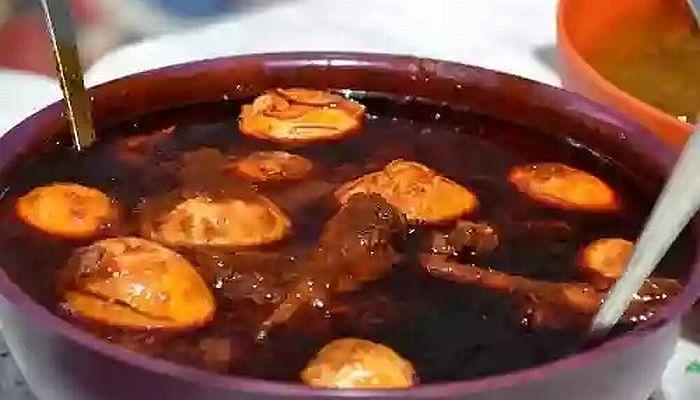 image credit: flamingo-restaurant.com
Doro Wot
Ethiopian Spicy Chicken and Hard Boiled Egg Stew
or Ethiopian Red Chicken Stew
Easy To Follow Instructions for Doro Wot - Ethiopian's Favorite Food - 3 Different Methods
Measurements and Ingredients
---
2 pounds skinless chicken legs
Lemon juice
2 large red onions, finely chopped (depending on serving size upto 2 kg onions)
1 1/2 cups berbere (Ethiopian spice mixture which includes chile pepper, garlic, ginger, dried basil, Ethiopian cardamom,
black and white pepper,
Fenugreek and rue, a bitter shrub)
1 cup Niter Kibbeh (Ethiopian Spiced Butter)
1/2 cup fresh garlic, finely ground
1/2 cup fresh ginger, finely ground
6 peeled hard-boiled eggs
Salt
Injera bread, for serving
Niter Kibbeh (Ethiopian Spiced Butter)
---
6 pounds unsalted butter
1/3 cup bishop seed (also known as ajwain, similar to thyme)
1/3 cup cardamom seeds
1/3 cup black cumin
1/3 cup koseret (dried woodsy flavored herb, dried
Oregano can be substituted)
---
Injera (Fermented Sourdough Bread)
---
1 1/2 pounds teff flour
1/2 pound barley flour
1/4 cup wheat flour
---
Preparation Method
---
To make Ethiopians most celebrated dish, you start by washing and soaking the chicken in cold water with lemon squeezed into it for 30 minutes.
The main reason for doing this is to tenderize the meat as well as to remove any harmful bacteria.
Caramelize the red onions on low heat in a large pot for 1 hour.
Add the berbere, Niter Kibbeh, garlic and ginger and cook for 30 minutes on medium-low heat.
Add the marinated chicken and cook on medium-low heat, 30 to 45 minutes.
Add in the hard-boiled eggs and salt to taste.
Simmer on low heat for an additional 10 minutes and serve on the Injera.
Melt the butter on low heat in a large pot. Blend together the bishop seeds, cardamom seeds and black cumin until powder form using coffee grinder or food processor.
Pour into the butter. Add the dried koseret. Bring to a boil then simmer for 15 to 20 minutes.
Remove from the heat and cool. When room temperature, skim the frothy milk solids off of the top.
Carefully pour the clear, clarified butter into a large storage container.
Combine the teff flour and 12 cups water. Mix, cover and store in a dark, cool place for 3 to 4 days to ferment, giving it its sour flavor.
On the last day of fermentation, mix the teff flour mixture with the barley and wheat flours. Let rest for another 8 hours.
Heat a large cast-iron pan over medium heat. Pour 1 cup fermented mixture into it, swirling the pan to cover the entire surface area.
Cover with a lid, 2 to 3 minutes. Injera is ready to plate when holes have formed on the surface. Place the injera on a plate and serve your Doro Wot.
Yield: 20 pieces.
---
Alternative Recipe
---
This stew of chicken and hard-boiled eggs is one of the most recognized dishes of Ethiopia.
The key to making its delicious, sweet-and-spicy sauce is to cook the onions slowly until they've caramelized to make a deeply flavored base.
SERVES 4
---
Measurements and Ingredients
---
4 tbsp. nit'r qibe (Ethiopian Spiced Butter) or unsalted butter
2 large yellow onions, roughly chopped
1 tbsp. finely chopped garlic
1 tbsp. finely chopped peeled fresh ginger
1 1?2 tbsp. berbere (Ethiopian Spice Mix) plus more as needed
4 chicken legs (about 2 1?4 lbs.), skinned and divided into drumsticks and thighs
Kosher salt, to taste
4 whole hard-boiled eggs
Injera (Ethiopian Flatbread)
---
Preparation Method
---
1
---
Heat butter in a large straight-sided skillet over medium-low heat.
Add onions and cook, stirring occasionally, until deeply caramelized, about 25 minutes.
Add garlic and ginger and cook, stirring, until softened, 6-8 minutes.
Add berbere and 2 cups water; stir well. Season the chicken all over with salt; nestle the pieces in the skillet.
Reduce heat to low and simmer, covered, turning occasionally, until chicken is cooked through, about 40 minutes.
Uncover skillet and raise heat to medium-high; simmer to reduce the liquid until it has a thick, gravy-like consistency, about 5 minutes.
Add eggs; stir to warm through. Taste and season with more berbere and salt, if necessary. Serve hot with the injera.
---
Alternative Recipe
---
The key to authentic, great-tasting Doro Wat is good quality, flavorful berbere, and a very long cooking process.
It can take several hours for an Ethiopian to make Doro Wat. You can cut back on the cooking time and your Doro Wat will still taste good, but it won't taste like it's supposed to. The magic is in the slow-cooked onions.
---
Measurements and Ingredients
---
5-8 pounds of chicken drumsticks and thighs skinned and cleaned
8 large onions fine chopped
2 cup of vegetable oil
5 teaspoons minced or powder garlic
2 teaspoons minced or powder ginger
1/2 cup of authentic Ethiopian Berbere(more to make spicier)
1/4 cup of Paprika for redness
2 teaspoon Korerima
2 teaspoon Wot Kimem (Mekelesha)
2 teaspoon salt (as needed)
1-3 cup of water
---
Preparation Method
---
In large pot, simmer onion, garlic and ginger with vegetable oil till lightly brown.
Add Berbere and Paprika, continue to simmer for about 15-20 minutes at low heat stirring occasionally by adding a touch of water as needed to avoid sticking.
Add chicken and simmer until chicken is done while adding the remaining water as needed.
Finish of simmering by add salt, Koreria, Wot kimem (Mekelesha). Serve your Doro Wat hot with Injera (Ethiopian flat bread made of teff).
---