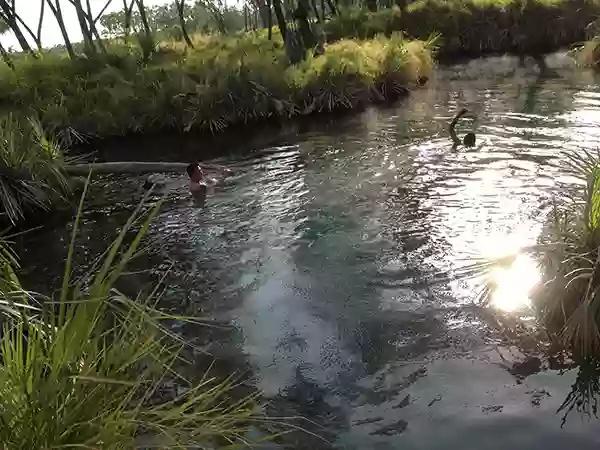 Ethiopian Hot Springs
Some Quick Facts to Know About Ethiopian Hot Springs
Due to the volcanic activity ever present in Ethiopia, hot springs can be found throughout the country.
One of the most popular hot springs is located in Wondogenet, which is conveniently located close to the capital city of Addis Ababa.
It is southeast of the city Shashamene, and is surrounded by lush forests, wildlife and water beds.
These geo-thermally heated hot springs are believed to be medicinal and holy by many Ethiopians.
Kaffa, known as the birthplace of coffee, has its best hot springs located in Goa, Kesho, and Dadiban.
The Fentale cliffs in the Ethiopian national park offers the Filowuha hot springs which is in a picturesque pool surrounded by palm trees.
The following is a list of some of the most popular hot springs spots in Ethiopia:
Wondo Genet
---
As mentioned earlier, due to its close proximity to Addis Ababa, it is one of the most popular hot springs in Ethiopia.
Most weekenders opt to go to the Wondo Genet Resort Hotel which houses a hot water bath.
The area is surrounded by wildlife such as monkeys and a beautiful view of mountains.
Trekking away from the hotel, one can visit natural hot spring areas.
---
Filwoha
---
This is located in the heart of the city of Addis Ababa, in the area not far from Kasanchis and Ambassador.
Here one is provided with small private showers and baths in which they may enjoy the natural steaming hot water.
---
---
The water can reach temperatures between forth and fifty degrees Celsius or 104 to 122 Fahrenheit.
---
Sodere
---
Sodere is another famous place for those hoping to escape the urban stress of the capital city.
---
---
Located a close proximity to the city, Sodere provides a place with a resort and natural hot spring baths and showers, as well as a swimming pool.
---
---
Negash Lodge
---
Negash Lodge is located in Wolliso and is now becoming more and more popular among those hoping to visit a hot spring in Ethiopia.
---
---
The locals in the area believe that the hot water in the area is very medicinal in nature.
---
Lake Abijata
---
Lake Abijata is located in the Shala National Park in Ethiopia's Great Rift Valley area.
The area surrounding the lakes Shala and Abijata have numerous hot springs and the abundance of steam gets to a point that sometimes the place looks like its covered in fog.
---
Awash Filwoha Hot Springs
---
This hot spring is located in Awash National Park in the northern part about thirty kilometers away from the highway.
The temperature of the beautiful blue colored pools reach about 45 degree Celsius and may have some crocodiles in the cooler parts.
The natural beauty of the place looks unspoiled by man but caution should be taken. Dangerous quicksand and lions require one to always go with an armed guard and guide.
---