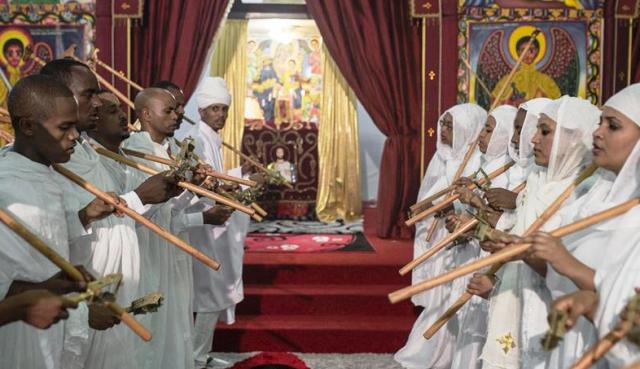 All Ethiopian Tewahedo Orthodox Churches
Are you looking for an Ethiopian Tewahedo Orthodox Church?
Here you will find the location and contact details for the many Ethiopian churches around the world.
---
Addresses, Links, Phone Numbers, Emails, Fax, P.O. Box Numbers can be found here for the EOTC's many churches and headquarters across the globe.
---
See also:
30 Must Know Facts About The Ethiopian Tewahedo Orthodox Church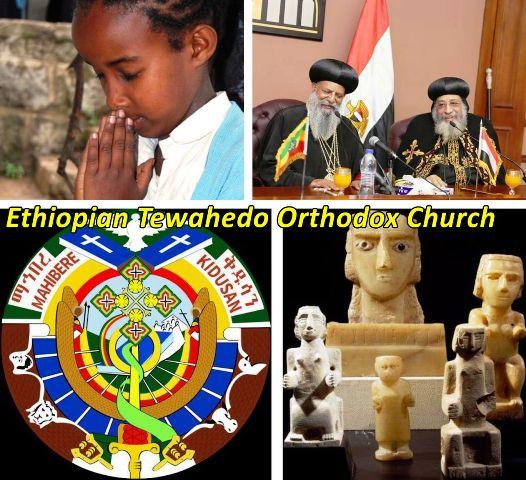 Ethiopian Tewahedo Orthodox Churches

Ethiopian Tewahedo Orthodox Church Name

City/State/Country

Address/Phone/Email/Website

Saint Mary's

Denver, Colorado, United States
901 East 17th Avenue

Denver, Colorado 80218

Phone:

303-863-0930

Saint Mary of Zion

Denver, Colorado, United States
P.O. Box 22666

Denver, Colorado 80222

Kidist Silassie Holy Trinity

Phoenix, Arizona, United States
2501 E. Cactus Road

Phoenix, AZ 85068

Mailing Address:

P.O. Box 9640

Phoenix, Arizona 85068-9640

Virgin Mary

Los Angeles, California, United States
4544 South Compton Avenue,

Los Angeles, California, 90011

Phone:

323-234-7751

Email:

Fax:

323-232-7751

Mailing Address:

P.O. Box 36310 OR

4544 S. Compton Avenue,

Los Angeles, CA 90011

Official Website:

http://www.ethiovirginmary.org/

Salite Mihiret Kidist Mariam

Decatur, Georgia, United States
P.O. Box 1412

Decatur, Georgia 30031

Saint Mary of Zion

Los Angeles, California, United States
P.O. Box 75232

Los Angeles, California 90075

Ethiopian Orthodox Tewahedo Church in South Africa

Port Elizabeth, South Africa
P.O. Box 59

New Brighton

Port Elizabeth, South Africa 6200

Official Website:

http://ethiopianorthodox.free.bm/

Holy Trinity

Kingston, Jamaica
89 Mayfield Avenue

Kingston, Jamaica 13

Saint Tekle Haimanot

Ottawa, Ontario, Canada
Ottawa, Ontario

P.O. Box 33298

K1N 1C5 Canada

Debre Selam Kidist Mariam

Washington, DC, United States
1350 Buchannan Street, North West

Washington, DC, 20011

Phone:

202-726 - 4115

Fax:

202-726 - 4056

Official Website:

http://www.eotc.faithweb.com/icon.html
Ethiopian Tewahedo Orthodox Churches

Ethiopian Tewahedo Orthodox Church Name

City/State/Country

Address/Phone/Email/Website

Debre Selam Medhane Alem

Houston, Texas, United States
11614 Claremont Street

Houston, Texas, 77035

Mailing Address:

P.O. Box 31788

Houston, Texas, 77231-1788

Phone:

713-728-2333

Medhane Alem

New York, New York, United States
91 Claremont Avenue 122nd Street

New York, New York

Mailing Address:

570 Riverside Drive Suite 9380

New York, NY 10031-9380

Saint Gabriel

San Jose, California, United States
P.O. Box 28588

San Jose, California 95159-8588

Bisrate Gabriel

San Diego, California, United States
P.O. Box 16435

San Diego, California 92176

Ethiopian Orthodox Church of Medhane Alem

Chicago, Illinois, United States
P.O. Box 408454

Chicago, Illinois, 60640

Mekane Selam Eyesus Church

Baltimore, Maryland, United States
2001 Frederick Road

Baltimore, Maryland 21228

Debre-Meheret Saint Michael

Garland, Texas, United States
1106 North Jupiter

Garland, Texas 75042

Medhane Alem

Fresno, California, United States
806 West Fedora Avenue

Fresno, California 93705

Saint Mary

Saint Louis, Missouri, United States
3100 Sidney Street

Saint Louis, Missouri 63104

Holy Trinity

Bronx, New York, United States
140-142 West 176th Street

Bronx, New York 10451

Medhane Alem

Columbus, Ohio, United States
3023 Chesterfield Court #4

Columbus, Ohio 43209

Debre Meherat Kidus Michiel

Washington D.C., United States
711 8th Street North West (8th & H Street)

Washington D.C.

Phone:

301-587-7934

Official Website:

http://www.ethio-stmichael.org

Debre Hail Kidus Gebriel

Washington, DC., United States
P.O. Box 21034

Washington, DC. 20009

Saint Gebriel

Seattle, Washington, United States
6721 51st Avenue South

Seattle, Washington

Phone:

206-720-0827

Official Website:

http://www.seadashen.com/Gebriel.htm

The Ethiopian Orthodox Tewahedo Bible Association

011 552 9100
1350 Buchannan Street, North West

Conference Room

Washington, DC 20011

Phone:

202-726-4115

Saint Mary of Zion

Toronto, Ontario, Canada
45 Overlea

P.O. Box 22101

Toronto, Ontario M4H 1N9 Canada

Saint Gabriel

Calgary, Alberta, Canada
P.O. Box 21179

Calgary, Alberta

T2p 4H5 Canada

Email:
---
Ethiopian Tewahedo Orthodox Churches

Ethiopian Tewahedo Orthodox Church Name

City/State/Country

Address/Phone/Email/Website

Mekane Selam Medhane Alem

Berkeley, California, United States
1901 8th Street

Berkeley, California 94710

Saint Mary

Los Angeles, California, United States
2908 Robertson Pl

Los Angeles, California 90034

Mailing Address:

P.O. Box 6097

Beverly Hills, California 90212-1097

Official Website:

http://www.acctgandmgmt.com/stmary.htm

Saint Mikael

Boston, Massachusetts, United States
P.O. Box 6

Boston, Massachusetts 02199

Saint Mary of Zion

New York, New York, United States
P.O. Box 680

Grand Central Station

New York, NY 10017

Debre Genet Kidus Ammanuel

Philadelphia, Pennsylvania, United States
P.O. Box 38590

Philadelphia, Pennsylvania 19104-8590

Official Website:

Medhane Alem

Washington, DC, United States
P.O. Box 15476

Washington, DC 20003-0476

Medhane Alem

Toronto, Ontario, Canada
425 Vaughan Road

Toronto, Ontario M6C 2P1 Canada

Debere Selam Medhane Alem in Edmonton

Edmonton, Alberta, Canada
10821-96 Street

Edmonton, Alberta

T5H 2J8

Phone:

780-421-7065

780-469-9349

Fax:

Fax(780)423-0176

Email:

Debre Selam Medhaniealem

Abu Dhabi, United Arab Emirates
-

Debre Genet St. Mary's Church

Winnipeg, Canada
Official Website:

http://www.st-mary-wpg.org/amh_home.htm

Saint Mary of Debre Tsion

London, England, United Kingdom
Official Website:

http://www.debretsionlondon.org/

Saint Michael Ethiopian Orthodox Tewadeho Church

Cologn, Germany
Official Website:

http://www.tabor-society.de/Englisch/Orthodox1_e.htm

Debre Mewi Saint Gabriel Church

Pernis, Netherlands
Official Website:
---
Ethiopian Tewahedo Orthodox Churches

Ethiopian Tewahedo Orthodox Church Name

City/State/Country

Address/Phone/Email/Website

Debre Meheret Saint Michael

Las Vegas, Nevada, United States
2575 Westwind Road

Las Vegas, Nevada 89146

Phone:

+1702-918-8803

Debre Haile Saint Gabriel

Decatur, Georgia, United States
3378 Memorial Drive

Decatur, Georgia

Debre Genet Amanuel

West Orange, New Jersey, United States
West Orange, New Jersey

Essex County 07052

Kidane Mihret

Rochester, New York, United States
P.O. Box 30816

Rochester, New York14603

Saint Ourael

Saint Paul, Minnesota, United States
1144 Earl Street

Saint Paul, Minnesota 55106

Phone:

+1-651-771-7129

Debre Selam Saint Michael

Sioux Falls, Utah, United States
-

Kidane Mihret

Jacksonville, Florida, United States
8373 Normady Blvd

Jacksonville, Florida 32221

Phone:

+1 904-379-2315

Saint Mary

Layton, Utah, United States
688 North Main Street

Layton, Utah 84041

Hamere Nohh Kidane Mihret

Houston, Texas, United States
3715 Fuqua Street

Houston, Texas 77047

Mailing Address:

P.O. Box 741241

Houston, Texas 77274

Holy Trinity

Elk Grove, California, United States
8990 Grove Street

Elk Grove, California 95624

Phone:

+1 916-690-8794

Dagmawit Gishen Saint Mary

Aurora, Colorado, United States
16200 East Colfax Avenue

Aurora, Colorado

Meskaye Hezunan Medhanialem

Tampa, Florida, United States
2628 East 27th Avenue

Tampa, Florida

Mekane Selam Medhane Alem

Oakland, California, United States
4100 Mountain Blvd. Oakland, California 94619 Phone: +1 510-336-1168 Official Website:

Mekane Kidist Selassie

Sacramento, California, United States
-

Debre Mihret Kidus Michael Bisrat Gabriel and Kidist Dingle Mariam

Sioux Falls, South Dakota, United States
610 South Dakota Avenue

Sioux Falls, South Dakota 57104

Phone:

+1 605-323-8715

Debre Meheret Kedus Michael

Washington DC, United States
3010 Earl PL NE

Washington DC, 20018

Phone:

+1 202-529-7077

Mekane Berhane Eurael-Erufael

Washington DC, United States
-

Saint Mary's

Portland Oregon, United States
7715 South East 92nd Avenue

Portland, Oregon 97266

Phone:

+1 971-570-4169

Qulibie Gabriel Church

London, Ontario, Canada
430 Elizabeth Street

London, Ontario N5W3R7

Medhane-Alem Churcch of Montreal

Montreal, Quebec, Canada
-

Debre-Selam Medhanealem

Edmonton, Canada

11403 124 Street

Edmonton, Alberta T5M0K4

Canada

Phone:

+1 780-756-8350

Gishen Debre Kerbe Mariam

Vancouver, British Columbia, Canada
370 East Broadway

P.O. Box 95049

Kingsgate, Vancouver BC, V5T4T8

Debre Sina Kidane Mihret

Kitchener, Ontario, Canada
139 Rolling Meadows Drive

Kitchener, Ontario, N2N1X8
---
Ethiopian Tewahedo Orthodox Churches

Ethiopian Tewahedo Orthodox Church Name

City/State/Country

Address/Phone/Email/Website

Saint Gebriel

Hammonds Plains, Nova Scotia, Canada
1608 Hammonds Plains Road

Hammonds Plains, Nova Scotia B4B 1P5

Canada

Mehane Alem

Maribyrnong, Melbourne, Australia
9 Navigator Street

Maribyrnong, Melbourne

Sydney Kidist Mariam

Sydney, New South Wales, Australia
-

Saint Urael

Adelaide, South Australia, Australia
-

Perth Debre Medhanit Medhane Alem

Perth, West Australia, Australia
-

Perth Gebrailwakidane Mariam

Perth, West Australia, Australia
-

Saint George

Brisbane, Queensland, Australia
15 Eric Cres

Annerley, Queensland

Kidist Mariam

Auckland City, Auckland, New Zealand
-

Mekane Selam Medhanialem

Kampala, Uganda
Bbunga, Kampala

Ethiopian Holy Trinity

Johannesburg, Gauteng, South Africa
17 Gordon Terrace

Johannesburg, Gauteng

Phone:

+27 11-402-0185

Meskaye Hizunan Medhanealem

Frankfurt, Germany
Philipp-Fleck-StraBe 13

60486 Frankfurt am Main, Germany

Phone:

+49 7864-5046

Hamere Noh Kidane Mehret

Wiesbaden, Germany
Frankfurter StraBe 3

65189 Wiesbaden

Wiesbaden, Germany

Lideta Lemariam

Baden-Wurttenberg, Stuttgart, Germany
Roteweg 176

Stuttgart, Germany

Debre Miheret Kidus Michael

Darmstardt, Hess, Germany
-

Kedist Dingle Mariam

Munich, Bavaria, Germany
-

Debre Selam Medhanealem

Stockholm, Sodermanland, Sweden
-

Debre Haile Kidus Gebriel

Gothenburg, Bohuslan, Sweden
-

Lund Mariam

Lund, Scania, Sweden
-

Stockholm Mariam

Stockholm, Sodermanland, Sweden
-

Saint Teklehaimanot

Oslo, Vestfold, Norway
-
---