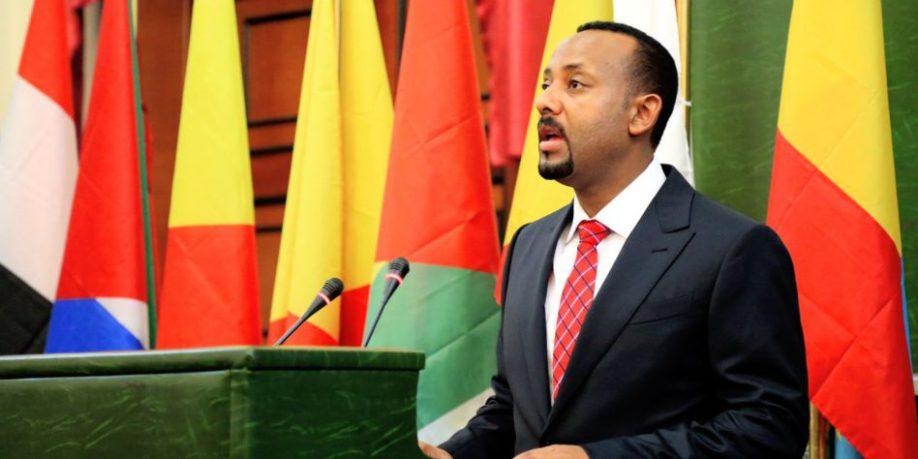 Posted on April 26, 2018 at 9:23 PM
---
Is Ethiopia's New Leader Dr. Abiy Ahmed, Our Mandela?
It has often been thought that in light of the recent volatile situation in the country, only a man respected by all parties could diffuse the situation.
Ethiopia's new leader Dr. Abiye Ahmed has so far proved to be Ethiopia's Mandela. Unlike previous leaders in recent Ethiopian history, he has been willing to go to all corners of Ethiopia to talk face to face to the people.
His blunt and direct way of expressing his concerns and offering solutions has endeared him to the vast majority of Ethiopians at home and abroad.
It seems like he is at home in every region he visits, not only in Oromia, which is his home region.
When in Tigray, he endeared himself to the local populace by speaking to them in flawless Tigrean.
When in the Amhara region, he joked about how he chose to marry a woman from Gondar because of the hospitable nature of the people.
All in all, it is refreshing to see an African leader walking and talking freely among the people.
When in the Southern Nations and Nationalities region he donned one of their cultural dress and told them he respected them for always being patriotic Ethiopians; all this to huge applause.
---
image credit: africanbusinessmagazine.com
---
It was also said that, his background was thoroughly checked to find even the slightest bit of "dirt" in order to defame him. But it was all in vain. Ethiopia's new leader Dr. Abiye Ahmed appears to have led a life free from the vices often associated with most Ethiopian politicians.
So far, Dr. Abiye seems tireless; he has been on the move since he became prime minister.
Comments such as his vow to end the seemingly endless "meetings" held by bureaucrats in order to avoid being of service to the citizens, has been lauded by the people.
---
---
Background
---
Dr. Abiye Ahmed was raised in a predominantly Muslim family along with his half Christian grandparents. They called him Abiyot while he was growing up, a name which means revolution in Amharic.
He received his first degree in Computer Engineering while serving in the Ethiopian National Defense Force and later went on to receive a post-graduate certificate in Cryptography from South Africa.
---
In addition to this, Abiye also has a Master of Arts in Transformational Leadership and Change and a Master of Business Administration. Upon receiving his PhD in 2017, he published a research article on de-escalation strategies, showing his inclination to peace rather than conflict.
Dr. Abiye Ahmed rose to political fame by being one of the main proponents against the land grabbing initiatives proposed by the incumbent government. The dispute over the land in the Oromia region and the surrounding areas of Addis Ababa caused the most conflict between the two sides.
Abiye was sworn in as Prime Minister on April 2, 2018, and his acceptance speech saw him promise to unite Ethiopia through political reform and furthermore, to reach out to the Eritrean government to resolve their conflict, as well as, to work together with the local and diaspora political opposition elements.
The speech was received positively by the majority of Ethiopians, who felt national pride and hope for a better future.
---
Prime Minister
---
Before, Dr. Abiye Ahmed's ascension to prime ministership, it seemed like Ethiopia was a tinder box, waiting for a small spark.
Thankfully, the worst has been averted and a man of the people is now in charge.
His promises to create an equal Ethiopia with all its people sharing in the country's economic boom has already borne fruit as he has implemented some initiatives in the Amhara region.
The people of this region often felt marginalized by their neighbors in the Tigray region.
Dr. Abiye has vowed to rectify their complaints of a lack of factories and jobs for the young.
---
---
Unimaginable just a month or so ago, an Ethiopian Prime Minister shaking hands and smiling with Andargchew Tsige.
Andargachew of the Ginbot 7 party once claimed to be a terrorist group and Ethiopia's public enemy number one who was sentenced to death, now shaking hands with a progressive leader looking to make inroads with the opposition.
---
---
Now it remains to be seen how Dr. Abiye will deal with Eritrea's president Isaias Afwerki and the sensitive border issue between the two countries.
---
A man of the people, Ethiopia's Mandela; call him what you like, Dr. Abiye Ahmed has definitely come to power at a time when Ethiopia needed him the most.
As he is a student of cryptography, let's hope he has cracked the code that will help heal the people of modern Ethiopia.
---
See also:
10 Photos of Abiy Ahmed's Wife: Ethiopian First Lady Zinash Tayachew
---