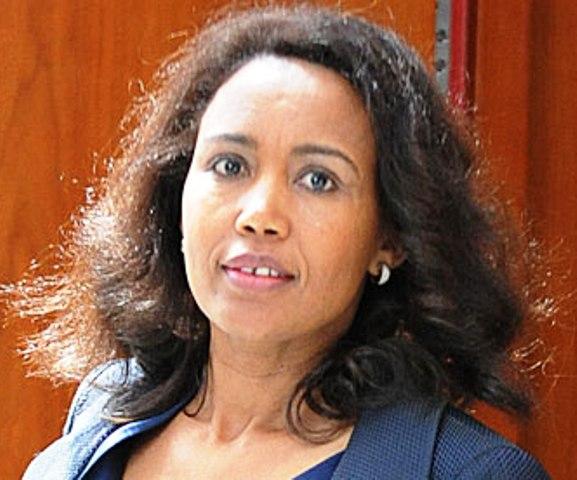 ---
Azeb Mesfin: Background, History, and Profile
Azeb Mesfin: Most Powerful Woman in Ethiopia
---
Azeb Mesfin Haile, the wife of the late PM Meles Zenawi, was considered to be one of the most powerful women in Ethiopia.
She is media shy and does not engage in many interviews, and this secretiveness perhaps was the catalyst that led to her being vilified throughout various media outlets.
---
Some bad publicity she receives include: Europeans reporting her multimillion Euro shopping spree to Ethiopian's calling her the "Mother of Corruption".
---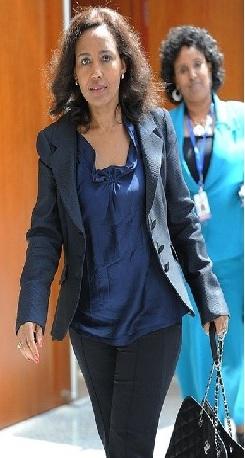 ---
On the other end of the spectrum, she was awarded and commended for her charity work.
Even after the death of her powerful husband, Azeb Mesfin continues to wield a dominant role, albeit much lesser than when she was at the height of authority.
Nonetheless, Ethiopian history will not be complete without taking a closer look into the TPLF's only and most powerful woman: Azeb Mesfin.
---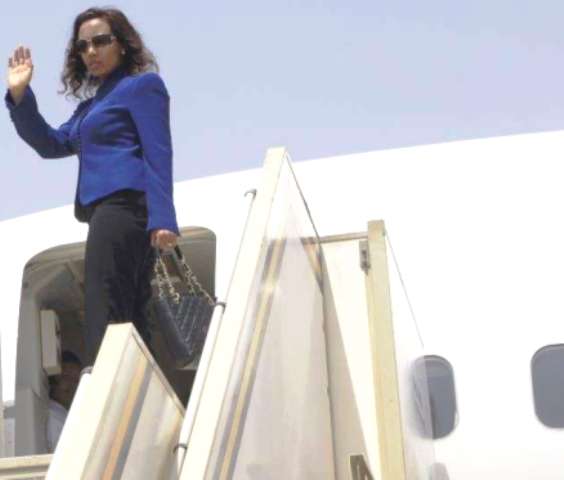 ---
Azeb Mesfin: Childhood
Azeb Mesfin was born in 1940 in the north western part of Ethiopia, in a region called Welkayit, where both the Amhara and Tigrayans ethnic groups have lived peacefully for generations.
Her father Mesfin Haile, was a peasant farmer, and her mother, Konjit Gola was the daughter of Fitawrari Gola Goshu.
It is reported that Azeb's grandfather, Gola Goshu was considered a traitor who worked along with the Italians during the 1935-1941 invasion.
This stigma is said to have followed her family causing them to have a lower status within the community.
It could be inferred that due to her grandfather's unpatriotic ways and her family being ostracized, Azeb, longing to be part of a community, would later choose to take part in and fight for a political cause.
---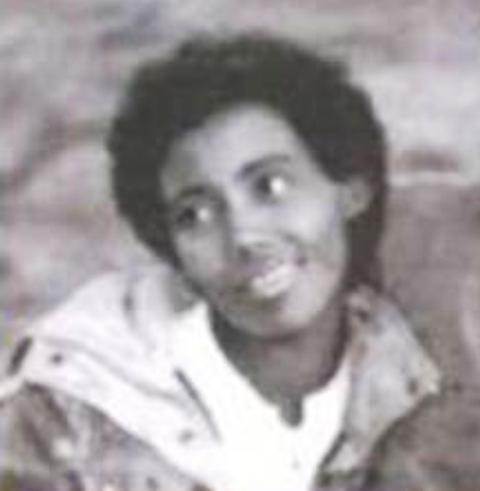 ---
Upon completing elementary school in the late 1970's, Azeb's family sent her to eastern Sudan in an area called Gadarif.
Due to the continuing insurgencies and the lack of general peace and opportunity, many families would send their kin or migrate as a whole.
Her aunt, Maniahlosh Gola, owned and operated a small bar in the town, and Azeb was there to help her.
---
Azeb as a Young Rebel Fighter
---
While working there she would be introduced to the rebel cause and their doctrines through a man named Mekonnen Zelelew, a TPLF combatant and recruiter at the time.
About 20 years old at the time, Azeb took a liking to Mekonnen, and would listen to his indoctrination during her free time.
By 1980, Mekonnen would be recalled by his TPLF commanders to the town of Shire in Tigray.
---
---
Along with Azeb, Mekonnen had dutifully recruited about 20 Tigre women for the TPLF cause.
Against her aunt's wishes, Azeb would follow Mekonnen on an arduous journey on foot from the Sudan to the TPLF stronghold of Shire.
Known to have the characteristics of a brave and strong-willed woman, Azeb was soon given training as a secretary, to take a position, within the important and influential TPLF political affairs bureau.
---
Azeb Mesfin and Meles Zenawi
---
At the time, a young idealist, named Meles Zenawi was also working at the bureau, training newly recruited cadres on the political ideals of the TPLF.
"Azeb Gola" the nickname given to her because of her well-known grandfather would soon serve under Meles as he began his meteoric rise within the group.
It is believed that during this time, they would become romantically involved, although there were strict policies in place that forbade such relations.
---
---
Nonetheless, they would further strengthen their union by getting married.
---
---
The defeat and fall of the Derg communist regime brought Meles Zenawi into the limelight as one of the most powerful leaders, in charge of deciding the future political climate and fate of Ethiopia.
Meles would go on to become the President of Ethiopia, and Azeb his First Lady, till he later became the Prime Minister.
---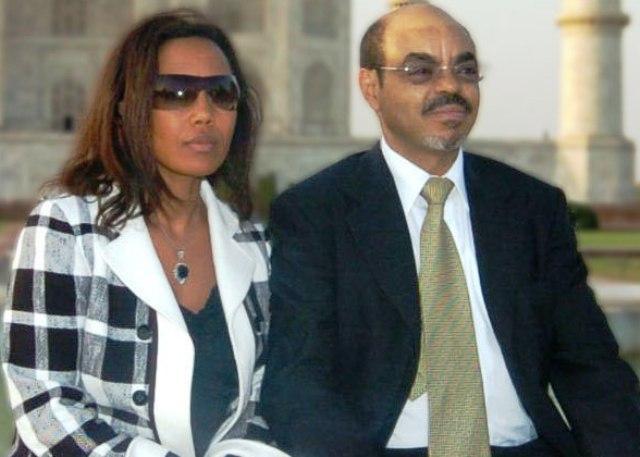 ---
Azeb Mesfin: The Road to Power
---
By this time, Azeb would shy away from politics, and opt for raising her three children: Semhal, Marda and Senay Meles.
She would also become the Executive Director of the Mega Corporation, which was involved in book publications among other endeavors.
Azeb was widely criticized by opposition groups in the diaspora for the actions she took while running the corporation.
Some of the accusations thrown at her included that she allegedly blurred the lines between TPLF, public and private businesses, making it difficult to trace the money.
By 2005, Azeb would officially enter politics by becoming an MP or member of the Ethiopian Parliament.
---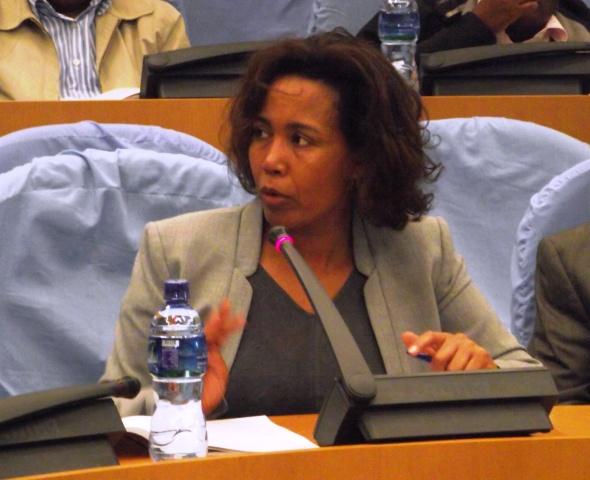 ---
She would represent the woredas of Wolqayt and Humera, the area she was born in.
While serving as a member of the House of People's Representatives (lower House of the Ethiopian Parliament), she would also become Chairwoman of the Social Affairs Standing Committee.
During this time, Azeb would help create and run the Ethiopian Coalition of Women Against HIV/AIDS and Ethiopia's National Initiative for Mental Health.
Azeb Mesfin is also believed to have been the only woman member of the all-powerful 9 member TPLF Executive Committee, as well as, one of their Central Committee Members.
By 2007, in one of the most laudable moments of her life, Azeb would be called to Georgetown University in Washington DC, to receive the "John Thompson Legacy of a Dream Award", for her work fighting the spread of HIV/AIDS.
Despite the protests being held outside by exiled Ethiopians, Azeb, on behalf of the Organization of African First Ladies against HIV/AIDS, would receive the award, along with the Zambian and Rwandan First Ladies.
---
---
In her speech, she would say:
…the award is the result of the relentless struggle waged by Ethiopian women.

Azeb Mesfin
By 2009, Abadi Zemu, the then leader of EFFORT (the Endowment Fund for the Rehabilitation of Tigray) would appoint Azeb as Deputy Head.
In 2011 the CEO or Chief Executive Officer position, which is basically the functional head of EFFORT would be given to Azeb.
It is widely believed that there was a vicious rivalry between her and the outgoing CEO, Sibehat Nega, who was at the helm of EFFORT since 2000, and due to actions she took within the corridors of power; he was given an ambassadorship and sent away.
---
---
EFFORT is a multi-billion dollar business conglomerate, and her position as CEO would cement Azeb Mesfin's position as one of, if not the most powerful woman in Ethiopia.
Considered by many as a business monopoly in Ethiopia, EFFORT controls large amounts of resources, over 50 companies, and oversees multi-billion dollar projects.
---
---
Azeb Mesfin: After Meles' Death
---
In August 23, 2012, Meles Zenawi, her long time husband and partner in life, passed away due to an unknown illness.
His death would have inevitably caused her untold emotional grief. Azeb and her children were seen lamenting the loss of the patriarchal head of their family.
In a public display of their grief during the burial rituals, the public got a rare view of the family.
---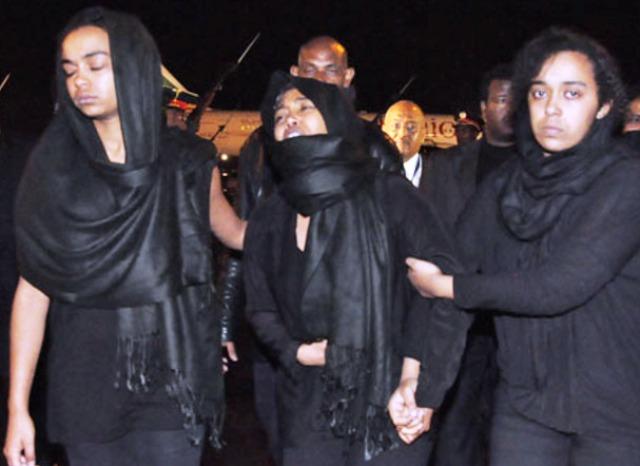 ---
2012 brought further bad news for Azeb, as her former rival within EFFORT, Sebhat Nega, managed to maneuver his business partner and close confidant, Berhane Kidane Mariam Yihdego, as the new Chief Executive Officer, effectively pushing Azeb out.
Down but not defeated, Azeb Mesfin continues to be a power player within Ethiopian society.
---
---
She oversees the operations of the Meles Zenawi Foundation or MZF, which caused some controversy over the prime land they planned to take from Oromo farmers.
---
Azeb Mesfin has plans to implement actions that will increase the importance and stature of the MZF, unfortunately, without the attention and interest from current TPLF leaders, her mission might prove to be a difficult, if not impossible one.
---
---