Why Choosing the Best Ethiopian Catering Company is Important
It is widely believed that, when dealing with the aspects that can make or break your event, few are as important as the flavor, appearance, and quality of the food and drinks you serve your guests.
Hence the importance of choosing the right catering company in Ethiopia for your events and special occasions.
Most guests will more than likely not remember much of the entertainment and decorations but will definitely remember whether or not the food and drinks were amazing.
---
Deciding Which Ethiopian Caterer Company
---
Your decision to choose which caterer to hire is of great importance, and if you believe it isn't, then look at it this way; having an amazing Ethiopian catering company can save an event that's not going as planned, while bad catering will almost always send your guests to the doors or, in a worst case scenario: to the bathrooms.
Furthermore, since hiring a catering company in Ethiopia is often the number one or number two most expensive costs, the Ethiopian caterer you choose is also a major budget influenced decision, which can weigh heavily on how much money you have left over to spend on other areas of your special occasion or event.
Also keep in mind, caterers in Ethiopia can differ considerably in their prices and the types of meals and services they have to offer.
We prepared a list of 4 criteria one should pay attention to when hiring a catering company in Ethiopia. Furthermore, we have also provided you with a list; we believe are the 6 best catering companies in Ethiopia.
We wish you enjoy your special day!
---
Hiring a Catering Company in Ethiopia
---
1. How responsive and interested a caterer is during your first conversations is an indication of how they will perform their duties during the length of their contract.

2. Their ability to handle your specific type of event - not every caterer is ideal for every type of event, and many caterers themselves openly admit this. Make sure to ask.

3. How flexible they are regarding menu choices - almost every caterer has a standard menu or menus to choose from, and many do provide some level of built-in flexibility to adapt these menus to your specific needs.

4. Request a full explanation of the services and goods as promised in the deal - the caterer should clearly state exactly what food, beverages and services they will be providing on the designated day or days.
---
---
---
---
About Maleda Catering
---
For over 30 years, along with a combination of contemporary presentation and refined global cuisine, Maleda Catering pride themselves in preparing fresh food using wholesome natural ingredients with traditionally authentic recipes.
Maleda Restaurant Catering's recipes were passed down through generations and are a symbol of quality, consistency, and excellence nationwide.
The same characteristics are carried over into their premier catering brand and each event is treated with personal attention and detail.
For weddings, they believe every bride/groom and every event is uniquely special as they create custom wedding packages and a personalized experience where Maleda Catering actually becomes a part of the wedding team and takes care of every need the hosts may have before and during the special day.
We Ethiopians take pride in our long history and legendary traditions, using this; Maleda Restaurant has and will always be at the forefront of superior and elegant Ethiopian catering service.
As one of Ethiopia's only eco-friendly caterers, Maleda Restaurant provides catering services in Ethiopia for all hospitality based catering from private events to company sponsored.
---
Some events include but are not limited to:
---
Weddings and Civil Ceremonies
Children Parties
Cocktail Receptions
Conference and Convention
National Holiday Celebrations
House Warming
Anniversaries
Product Launches
Corporate Events
Family Celebrations
Christmas Parties
Banquets/Buffets
---
Popular Offers by Maleda Restaurant Catering
---
Doro Wot
Ethiopian Spicy Chicken and Hard Boiled Egg Stew or Ethiopian Red Chicken Stew
Fish
Ethiopian Nile Perch and Tilapia
Kitfo
Ethiopian Minced Meat Tartar
Kik Wot
Ethiopian Yellow Lentil Stew
Gored Gored
Ethiopian Seasoned Cubed Meat
Misir Wot
Ethiopian Red Lentil Stew
Quanta Firfir
Ethiopian Beef Jerky and Enjera
Kikel
Ethiopian Mild Stew with Potatoes and Lamb
Buticha
Ethiopian Chickpea Porridge
Key Sega Wot
Ethiopian Red Beef Stew
Yesuf Fitfit
Ethiopian Sunflower Seeds Sauce with Enjera
Yebeg Alicha
Ethiopian Mild Lamb Stew
Zilzil Tibs
Ethiopian Braised Beef Tenderloin
Tibbs
Ethiopian Skillet Fried Meat Pieces
Kinche
Ethiopian Cracked Wheat
Genfo
Ethiopian Porridge
Chechebsa
Ethiopian Shredded Flat Bread Fried with Spices and Butter
Minchet Abish
Ethiopian Sauteed Ground Beef
Shekla Tibbs
Ethiopian Goat and Beef Coal Fried
Gomen Be Siga
Ethiopian Spinach with Meat
---
Contact:
Phone: +251 9112 02775 / +251 9119 87147 Office Address: King George VI St, Addis Ababa University area, Addis Ababa, Ethiopia
Email: [email protected]
Official Website:
https://maledarestaurant.com
---
---
---
About Gusto Ristorante
---
Gusto Ristorante has been in business since 2012 and their aim was to create a high quality establishment.
Their focus on quality led them to recruit a chef from Italy to present to the public, rarely found authentic Italian cuisine.
---
Popular Offers by Gusto Ristorante
---
Drink Packages, Mobile Bars and Cocktails, Marquee Hire, Catering Equipment Hire, Wide Range of Entertainment, Decor and Styling.
Any Occasion, Anywhere:
Homes, Venues, Offices, Marquees, Remote areas.
Some Menu Items:
ANTIPASTI/APPETIZERS
• ANTIPASTO DI VERDURE DAL BUFFET
Selection of Garden fresh grilled vegetable buffet
120 ETB
• TARTARE DI MANZO CON MOUSSE DI RICOTTA
Fresh Chopped Beef with Ricotta Cheese Mousse
200 ETB
ZUPPE/SOUPS
• ZUPPA DI LENTICCHIE
Lentil soup
70 ETB
• MINESTRONE DI VERDURE ALLA MILANESE
Vegetable soup
70 ETB
• CREMA DI ZUCCA CON CROSTACEI
Cream of Pumpkin with Shrimp, Scallop & Mussel
250 ETB
RISOTTO/ITALIAN RICE
• RISOTTO CON ASIAGO E OLIO AL TARTUFO
Arborio Rice simmered with Vegetable Stock, Asiago Cheese & Truffle Oil
320 ETB
• RISOTTO ALLO ZAFFERANO CON FRUTTI DI MARE
Arborio Rice simmered with Vegetable Stock, Suffron & Seafoods
450 ETB
PRIMI PIATTI/STARTERS
• TAGLIATELLE AL RAGU BOLOGNESE
Spaghetti pasta with minced beef, tomato sauce, veggies and red wine reduction
170 ETB
• PENNE AL SALMONE AFFUMICATO
Penne pasta with smoked salmon, onions in cream sauce
200 ETB
SECONDI PIATTI/MAIN COURSES
• GRIGLIATA DI GAMBERONI
Grilled Jumbo Shrimps
500 ETB
• FILETTO DI SALMONE NORVEGESE ALLE ERBE
Baked Fillet of Norvegian salmon with Herbs
400 ETB
---
Contact:
Main Office Address: Tracon Tower, Third Floor Churchill road, in front of Tikur Anbesa Preparatory School, Addis Ababa, Ethiopia
Telephone/Mobile: +251 934 497861 / +251 934 497862
Email: [email protected]
Official Website: http://gustoaddis.com
---
---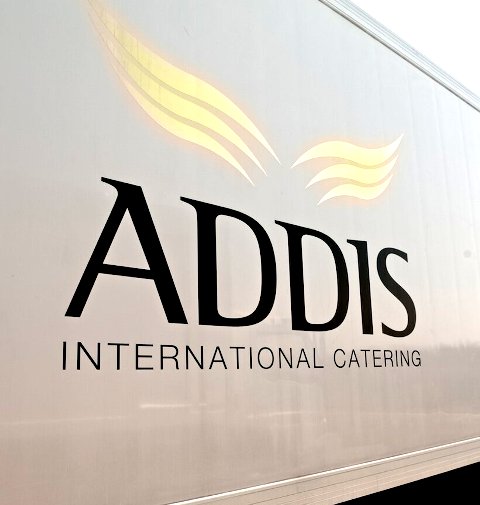 ---
About Addis International Catering
---
Addis International Catering is an Ethiopian catering company located in Addis Ababa.
They are noteworthy for providing catering and other services to airlines at the Bole International Airport, as well as, a wide range of contract, private and retail catering services to the local market.
They are staffed with over three hundred employees, with more than 90% of them being domestically trained and employed Ethiopians.
Addis International Catering has a well established training facility to ensure that all products and services are delivered to the highest possible hygiene and quality standards.
---
Popular Offers by Addis International Catering
---
CONTRACT CATERING
Addis International Catering has a number of contracts to supply and manage the catering at various schools and embassies across Addis Ababa.
They offer on-site staff that provide fresh breakfast, lunch, snacks and a' la carte items to students, staff and guests.
EVENT CATERING
Addis International's party and event catering services in Ethiopia delivers quality food and services on a regular basis across the local market.
Their clients include major international organizations such as, the African Union and UNESCO.
We manage major events for the British, Swedish, and other Embassies, MIDROC headquarters and a number of public and private sector companies.
RETAIL PRODUCTS
We manufacture and provide a wide range of high quality bakery and pastry products on a daily basis to a number of Addis Ababa's restaurants, cafes and hotels.
PRODUCT COMPONENTS
In addition to retail products, we manufacture and deliver specified components to a variety of well known fast food outlets.
---
Contact:
Main Office Address: P.O. Box 121, Code 1250, Addis Ababa, Ethiopia
Telephone/Mobile: +251 116 620072
Fax: +251 116 620262
Email: [email protected]
Official Website: http://addiscatering.com.et
---
---
About Liyu Food Production and Distribution
---
Liyu Food Production and Distribution is a catering company in Ethiopia that has been providing the domestic market with exquisite and delightful tasting homemade food products since 2002.
The company currently supplies these products to twenty different domestically based international hotels, restaurants and supermarkets.
---
Popular Offers by Liyu Food Production and Distribution
---
Product/Services
• Catering Service: Liyu can provide its superior catering services for your next: Birthday Party, Wedding, Anniversary, Business Lunch, Award Ceremony etc.
• Various fresh and frozen foods: Chicken bread, Local bred (white, red and hump), Engera (anebabero), Ambasha, Ravioli, Tortellini, Cannelloni, Lasagna, Sausage, Spring rolls (veg and meat), Sambusa (veg, meat, lentil & rice), Chucko, Cookies.
• Various flavors of traditional Ethiopian tege.
• Defres, Filtered, Coffee, Ginger filtered, Ginger defres, Orange, Barely, Strawberry, Berze
---
Contact:
Main Office Address: Workabezu Benti - Owner/Senior Chef, P.O. Box 180957, Addis Ababa, Ethiopia
Telephone/Mobile: +251 1121 39366 / +251 911 888793
Email: [email protected]
Official Website: http://goaddistours.com/
---
---
---
About Tapu prepared Foods Inc.
---
Tapu Prepared Foods Inc. is a food processing company established in Ethiopia.
It is a trade name of Yemsrach Abera & Family General Trading, a company whose vision is to provide quality packed foods and spices to its clients in Ethiopia and abroad.
The Ethiopian catering company, Tapu Prepared Food's prime goal is to prepare, package and distribute quality Ethiopian cultural foods to domestic and international markets.
They also deliver Ethiopian traditional foods in easy to take-away forms.
---
Popular Offers by Tapu prepared Foods Inc.
---
Catering Service
They provide large scale catering services for clients.
The events they cater to include graduation, wedding, birthday, anniversary, baby shower or any occasion. They also provide large-scale catering services for industrial parks, universities, and hospitals.
Cocktail and Buffet Services
Tapu Foods is also well versed in taking orders for birthdays, weddings, graduation ceremonies and related social events, customized to meet particular demands of our clients.
Take-Away-Food Services
The company has traditional take-away foods ready to go at our selling points located in Addis Ababa.
They also take online orders on our website, and send our packed foods to respective destinations, using daily flight services.
Ethiopian Cultural Sauces, Spices and Breads
Doro Wot (Chicken Sauce), Kãey and Alchâ Siéga Wôt (Chopped Beef Sauce), Minchét-àbish Kâey and Alchâ Wôt (Smashed Beef Sauce), Mesêr Kãey Wôt (Lentil Sauce), Atêr-Kêk Kãey and Alchâ Wôt (Pea Sauce).
These are made ready in various packaging, including 500 gram and 2 kg packs.
Lunch Boxes for School Children and Civil Servants
Upon request, they deliver lunch boxes for school children and civil servants.
---
Contact:
Office Address: Bole Subcity, Wossen Road, Estifanos Building, 2nd Floor, P.O. Box 1000, Addis Ababa, Ethiopia
Telephone/Mobile: +251 921 914059 / +251 929 001378
Email: [email protected] / [email protected]
Official Website: http://www.tapufoods.com
---
---
---
About Variety Restaurant and Lounge
---
Variety Restaurant and Lounge is one of the best Ethiopian catering companies, established since 2009.
Variety Restaurant and Lounge, stimulates taste buds with fresh, world-class cuisines and hand-crafted cocktails that boast an extensive list of fine wines, full bar, and carefully created menus for every occasion.
With Chefs from Italy and Ethiopia at the kitchen, Variety has a full menu for lunch, dinner, happy hour, and late night lounge service.
Choose a little something from our delicious lounge menu, along with one of our signature cocktails, and relax smoking or nonsmoking area of our lounge.
---
Popular Offers by Variety Restaurant and Lounge
---
Events, Weddings, Graduations, Birthdays, and much more.
They also offer you a fasting buffet every Wednesday & Friday.
---
Contact:
Main Address: Maffi City Mall, Addis Ababa, Ethiopia
Telephone/Mobile: +251 911 216757 / +251 944 203000
Email: [email protected]
Official Website: http://www.varietyaddis.com
---