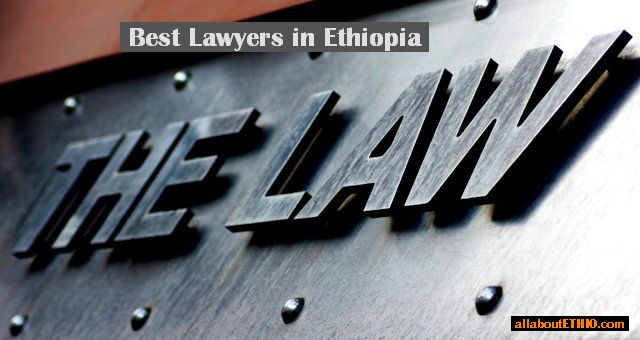 How Can You Find a Good Lawyer - Attorney in Ethiopia?
---
---
Finding a lawyer in Ethiopia, who can assist you with your legal requirements is no easy task, as in any other country, especially in a country where you may have lived in for just a short period or perhaps you do not even speak the local language.
Compound that with the fact that you may not know many people trustworthy and respectable people who could provide you with references.
So, the question remains, how can you find a good attorney in Ethiopia?
There are some particular steps than one may take to make certain your likelihood of locating someone that will be professional and not cheat you, although there can never be any guarantees.
A little research goes a long way, when it comes down to choosing someone as critical as a lawyer in Ethiopia.
---
Related: 7 of the Best Business Consultants in Ethiopia
---
In Ethiopia, you need to go to law school to become an attorney, but they are currently all government run institutions.
The following is an excerpt of the requirements and admission process:
The general objective of the undergraduate program is to provide basic legal training to students. More specifically, the program aspires:-

* to equip students with basic knowledge of major national legislations and procedures, along with the skills of legal interpretation required to solve legal problems;

* to train professionals who will be able to undertake the technical aspects of drafting and revising laws;

* to enhance the critical thinking abilities of students so that they can understand and implement laws as judges, practicing lawyers, prosecutors, public defenders or academicians;

* to train professionals who can deliver legal advice in public and business laws either by working for particular firms or individuals seeking such advice;

* to educate individuals who will be able to speak to and advise clients with professionalism, understanding and responsibility;

* to prepare dedicated persons who can research and publish, and hence reinforce Ethiopian legal jurisprudence; and

* To produce legal professionals who serve society with the highest heed to ethical values, who strive to defend rights and liberties and uphold the fundamentals of rule of law.

Admission requirements are as follows: students who completed the national preparatory education with acceptable grades and wish to join the schools of law will be selected from a list of students assigned to the social sciences streams on a competitive basis or be placed in the regular program by the Ministry of Education.

The admission requirements for the continuing education program are set by the Admission Committees of each School of Law, with due regard to gender compositions. Conventionally, the concerned committee convenes once a year to evaluate applications.

The specific admission criteria vary from school to school; traditionally, the committees allot about 70% of the places to applicants who hold diploma in relevant fields of study; about 10% of the places have been reserved for applicants with a degree in fields other than law, while the remaining seats (20%) are allocated to candidates who fulfilled national preparatory education with a pass grade.

The ratio may change from time to time, particularly when the committees find it imperative to adhere to specific instructions of educational policy or disparities in the applicants' pool it.

The Academic Standards Unit of each University is a member of the Admissions Committee, and participates in the selection processes. The final list of selected applicants is sent to the relevant unit of the schools of law for registration.
There are two terms used for attorneys in Ethiopia: Tebeka (literally means protector) or Akabi Hig, which is a prosecutor.
You will want to ask your chosen lawyer additional questions, such as: Do you have a specialty degree, a master's degree or a diploma course?
How many and in what subjects? Answers to these questions will provide you with an idea of what exactly their areas of expertise.
Do not forget to also ask about their practice areas and other similar court cases they have been party to in the last few years.
You will definitely want to reconsider lawyers who have little or no continued education after receiving their law degree.
This is a sign of what could be termed as laziness, especially in this day and age of online courses.
Your next step should be to enquire if your lawyer belongs to a professional association for people or companies involved in Ethiopian law.
Finally, you should ask the following questions...Have they been in the same office location for many years or do they work from a home office with a smart phone and a laptop?
Will you know where to locate them in the possible near future? Will they be in the same place a year from now?
A professional lawyer in Ethiopia will have an office that has been established for some time and will definitely have an executive assistant, some equipment for their trade, landlines and associates who are able to do some of the legwork like go to the courts or government offices.
Does the lawyer you chose have to journey far to be present at government offices?
What is your lawyer in Ethiopia's plan to keep you well informed and notified as new developments spring up?
The best Ethiopian litigation firms are well connected to the many available resources on the internet and through sophisticated software's, especially since most of them serve a major metropolitan area, namely being a law firm in Addis Ababa.
Therefore, a little research and due diligence on your part can go a long way to help you find a good attorney in Ethiopia.
The following are a list of the lawyers in Ethiopia that we believe are the best in their field.
---
Top Attorneys in Ethiopia
---
---
---
SKY (Samuel, Kiya, Yitagessu) and Associates Law Office was founded by energetic and experienced legal professionals, who are licensed to practice law by the Ethiopian Ministry of Justice.
They cover a wide range of both substantive and procedural aspects of legal investment and business matters in Ethiopia.
SKY offers their services of consultancy and litigation services to both local and foreign investors.
Their practice areas include:
Investment Law

* Areas of investment open to foreign investors, investment incentives, admission to industrial parks, entitlement to bilateral and multilateral investment treaty benefits etc.

* The best legal format for particular foreign investment businesses in Ethiopia.

* Tax obligations

* Environmental impact assessment

* Administrative compliance such as annual audits, license renewal, etc.

They also follow up on drafting and filing requisite documents, securing VAT registration, opening bank accounts etc.

Commercial Law

* Draft memorandum and articles of association

* Provide company secretarial service: maintain company records including minutes of all directors' and shareholders' meetings or resolutions, share register, register of Directors, etc.

* Advise on company Law of Ethiopia

* File internal changes in the administration and status of a company such as share transfers, increasing capital, changes in debenture holdings etc.

Due diligence, Merger and Acquisition

SKY and Associates Law Office has solid expertise in conducting due diligence on target companies in Ethiopia on tax, contracts, environmental matters, litigation, intellectual property and other legal issues.

They also have a track record of conducting rigorous due diligence for foreign equity investors, resulting in successful acquisition of shares in local companies.

Merger and acquisition are subject to the mandatory requirements prescribed by the Ethiopian Trade competition and Consumer protection proclamation. SKY assists companies in preparing and submitting the requisite pre-Merger notification in the correct format and in compliance with the substantive assessment standards of the Trade Practice and Consumer Protection Authority of Ethiopia.

Banking and Insurance Law

SKY and Associates Law Office provides legal services on banking and insurance Law matters. They provide legal advice to foreign and local investors regarding banking regulations, loan registration and remittance.

Labor and Employment Law

* Drafting employment contracts for both managerial and non-managerial employees

* Drafting training agreements between employers and employees

* Advising on labor issues such as annual leave, bonus, termination of Contract, severance pay and compensation

* Advising on pension law and provident fund issues

* Facilitating the acquisition of work permits for expatriate staff

* Drafting settlement agreements upon termination of employment

Law of Charities and Societies

SKY also has extensive experience in assisting charities and faith-based organizations in navigating the Ethiopian non-profit legal and regulatory environment.

* Choosing the right legal structure for a specific charitable Purpose;

* Formation, registration and dissolution of charities and consortium of charities

* complying with budgetary prescriptions of the Ethiopian charities and societies agency

* Obtaining operational license

* Resource mobilization and income generation

* Structure and accountability of internal organs of charities

* Complying with supervision and follow-up requirements of the charities and societies agency

Litigation and Arbitration Services

It is crucial for parties to a legal dispute to settle their disagreements in a short period of time and with the least cost possible. SKY And Associates Law Office gives priority to the applicability of alternative dispute resolution mechanisms.

Intellectual property Law

This Ethiopian law firm also provide IP related services including, but not limited to:

* Registration of patent rights

* Registration and renewal of trademarks

* Tracking and handling infringement of trademarks

* Drafting and advising on trademark license agreements
---
Contact
Office Address: Afewerk Building (opposite Federal Attorney General's Office), 2nd Floor Room # 201, Jomo Kenyatta Avenue, Addis Ababa, Ethiopia
Telephone/Mobile: +251 118 68 9349 / +251 911 40 7716 / +251 912 045278
Email: samuel@skylegalet.com / teshale@gmail.com
Official Website:
https://skylegalet.com
---
---
---
Aman Assefa and Associates Law Offices is an Ethiopian corporate and transactional law practice with almost twenty years of experience.
As the name suggests, this law firm in Ethiopia was founded by Aman Assefa, and is comprised of legal professionals trained in eight jurisdictions.
Aman Assefa and Associates Law Office is an alliance firm of Bowmans and provides legal advisory service in the areas of investment and corporate transactions, taxation, international arbitration, energy, project financing, intellectual property, public enterprises, capital markets, labor relations, construction, anti-trust and unfair competition, banking, and bankruptcy.
Their team of lawyers combines the expertise of lawyers from the academia, judiciary, private practice, multinational in-house counsel and public policy advisory.
The firm's lawyers have been trained in Ethiopia, Germany, Switzerland, the Netherlands, South Africa, the United States, the United Kingdom and Hungary.
Their practice areas include:
Banking and Insurance, Construction and Infrastructure, Corporate, Dispute Resolution, Employment, Energy and Mining, Intellectual Property and Technology, Project Finance, PPP and Public Procurement, Real Estate and Property, Regulatory and Government Affairs, Tax and Customs, and Trade Practice and Anti Trust.
---
Contact
Office Address: P.O. Box: 13166, Addis Ababa, Ethiopia
Telephone/Mobile: +251 911 505659 / +251 911 975810 / +251 911 874741 / +251 930 470262
Email: info@aaclo.com
Official Website:
https://aaclo.com
---
---
---
Tamrat Assefa Liban Law Office is a legal practice based in Addis Ababa, Ethiopia that specializes in corporate and commercial law by providing Ethiopian law/legal advice and transaction services for a wide range of international clients.
The firm has a dedicated, trustworthy, and experienced team of lawyers who have served as judges for the federal courts of Ethiopia and have excellent educational backgrounds from both local and European universities in their areas of focus.
Tamrat Assefa Liban Law Office mainly, serves foreign investors in entry: establishment and legal aspects of their operations including finance, employment, tax and litigation; and exit.
All members of this Ethiopian law firm have extensive experience in litigation work, as they have previously served as assistant judges and prosecutors.
Their practice areas include:
Commercial Law, Mining and Energy Law, Banking and Finance, General Business Law and Intellectual Property Law.
---
Contact
Office Address: P.O Box 1151 code 1250, Robel Plaza, Room 405, Addis Ababa, Ethiopia
Telephone/Mobile: +251 11 667 0506
Email: tamratassefa@ethiolegal.com
Official Website:
https://ethiolegal.com
---
---
The Ethiopian Law Group is made up of lawyers that have worked diligently in many different private and governmental posts.
Over the years they have acquired experience in the following service areas:
Establish Representative Offices and Corporate Entities, Negotiate Joint Ventures with Ethiopian Businesses, Draft License Agreements, Deal with Various Customs, Export/Import, Negotiate and Draft Acquisition Agreements, Draft Employment Contracts, and Coordinate with Ethiopia Counsel to take Advantage of Trade, Investment, and other Treaties between Ethiopia and other Countries.
Their practice areas include:
Company and Commercial Law, Employment/Labor Law, Joint Ventures and Business Formation, Investment Law, Land and Property Law, Bankruptcy/Insolvency Law, Merger and Acquisition, Tax Law, Litigation and Alternative Dispute Resolution.
The Ethiopian Law Group also provides legal advice in Ethiopia on the following:
Trademark Registration Service

Trademark is part of intellectual property in Ethiopian Trademark Registration and Protection Proclamation No. 501/2006. Ethiopian Law Group provides a trademark registration service as a reliable trademark agent.

Company and Commercial Law Advice

Ethiopian Law Group provides legal advice to suppliers and customers on a broad range of commercial contracts across all business and industry sectors. Their expertise includes:

* Supply and distribution arrangements

* Maintenance and support arrangements

* Outsourcing

* Manufacturing agreements

* Sales and marketing

* Concessions

* Joint ventures

* Franchising

* Tax Advice

Ethiopian Law Group provides advice on legal aspects of taxation matters for various organizations, sectors and industries ranging from general advice on the taxation environment and tax obligations in Ethiopia, to sector and industry specific advice.

Their areas of specialization in tax matters include:

* Capital gains and income tax

* Value added tax (VAT)

* Customs and Excise duties

* Tax obligations for petroleum exploration companies

* Double taxation agreements

* Appeals preparation before the tax tribunal

* Legal due diligence on taxation

* Taxation of intellectual property rights

* Withholding taxes

* Taxation in the betting and gaming industry

* Tax refunds and redeeming of dividends by the Ethiopian Revenue Authority

* Employment/Labor Law Advice

Ethiopian Law Group also provides advice to corporate entities employing large numbers of Ethiopians as well as medium and small scale corporate entities. They handle a full range of issues arising in the workplace, such as:

* tax and benefits laws applicable to employees

* employee share ownership schemes

* employee benefits

* executive contracts

* redundancies and terminations

* unfair dismissal

* employment legislation

* union representation

* pensions and retirement benefits legislation

* employment issues upon a transfer of business

* terms and conditions of employment

* merger and acquisition advice

Joint Ventures and Business Formation Advice

Businesses increasingly embrace joint ventures and strategic alliances as an optimal means of achieving goals. Ethiopian Law Group provides specialist advice on the formation, operation, and termination of joint venture agreements and strategic alliances.

Litigation and Alternative Dispute Resolution

Land and Property Advice

Ethiopian Law Group advises on the purchase and sale of properties in the Ethiopia. Their property specialists deal with both residential and commercial property transactions. They act as intermediaries for developers, property consultants and all types of landlord and commercial property tenants needing advice that can only be provided by experienced specialist property lawyers.

They also advise in the following areas:

* Conveyance

* Buying at Auction

* Contract Disputes

* Enfranchisement

* Household Disputes

* Investment Property

* Buy-to-Let Property

* Leasehold Properties

* Re-possession Proceedings

* Remortgaging

* Tenancy Agreements

* Transfer of Title

* Unlawful Eviction

* Legislative Drafting Advice
---
Contact
Office Address: Liberia Street, St. Lideta, Electric World Building, Addis Ababa, Ethiopia
Telephone/Mobile: +251 911 004 131
Email: info@ethiopianlawgroup.com
Official Website:
https://ethiopianlawgroup.com
---
---
Getnet Yawkal Law Office gives the highest priority to providing practical and result oriented legal service in Ethiopia.
This Ethiopian legal advisory offers a strong, sound and cost effective legal guidance in resolving cases professionally as your legal adviser in Ethiopia.
Getnet Yawkal Law Office offers some of the following services:
Inspecting Records and Documents of EIPO & Extracting Copies, Filing Intellectual Property Applications including Priority Right Applications, Drafting and Filing Assignment or License Agreements, Drafting and Reviewing Employment Contracts ( i.e. definite and indefinite period employment contracts), Drafting and Reviewing Independent Contractor Agreements, Drafting and Reviewing Settlement and Release Agreements, Drafting and Reviewing Institutional Documents i.e. Memorandum of Association and Article of Association, Advising and Obtaining Investment Permits, Commercial Registration Certificates and Business Licenses, Preparing Legal Due Diligence Reports.
Their practice areas include:
Intellectual Property, Employment and Labor, Merger and Acquisition, Corporate and Commercial, and Banking and Finance Laws of Ethiopia.
---
Contact
Office Address: Bole, Rwanda Street, Next to Golden Coffee, 1st Floor, Office No.606/12, P.O. Box 1985, code 1250, Addis Ababa, Ethiopia
Telephone/Mobile: +251 118 231 404 / +251 911 051 754
Email: getnety@getnetyawkal.com / getnety.atty@gmail.com
Official Website:
https://getnetyawkal.com
---
---
Mehrteab Leul & Associates Law Office is a full service law firm in Ethiopia with over two decades of experience in the field of representing and advising clients on a wide range of matters associated with finance, corporate law, and investment in Ethiopia.
As the name indicates, this law firm was obviously founded by Mehrteab Leul Kokeb, and has now grown to cater to a wide range of clients from start-up companies to government entities and multinational corporations.
Mehrteab Leul Kokeb, has trained legal professionals, that strive to provide legal services that underpin the basic pillars of professionalism and excellence.
Their practice areas include:
Corporate and Finance, Tax, Real Estate, Intellectual Property, Mining and Energy, Hospitality and Leisure, Labor and Employment, Immigration, Aviation Law, NGO, and Alternative Dispute Resolution.
---
Contact
Office Address: Africa Avenue, Dembel City Centre, 8th Floor (Via Lift No. 4) Rm No. 805A, P.O. Box: 33449, Addis Ababa, Ethiopia
Telephone/Mobile: +251 115 15 97 98 / +251 115 54 79 38 / Fax No.: +251 115 15 98 22
Email: mehrteab@mehrteableul.com
Official Website:
https://mehrteableul.com
---
---
---
Tadesse Kiros Law Office is an Ethiopian law firm that claims to help its clients navigate through the plethora of new legislations, regulations and evolving practices.
They are an independent Ethiopian Law Office but they collaborate, on a non-exclusivity basis, with a number global firms and networks such as Addleshaw Goddard LLP, Baker Makenzie, Clifford Chance, Dentons, Pinsent Masons, Andersen Tax, Meritas and Nextlaw.
Their practice areas include:
Arbitration, Labor and Employment, Banking and Finance, Commercial and company law, Intellectual Property, Mining, Oil and Gas and Energy, Tax law, and Investment.
---
Contact
Office Address: Mega Building, 3rd Floor, Room #310, Bole Road, P.O. Box: 1043, Code 1110, Addis Ababa, Ethiopia
Telephone/Mobile: +251 115 548 949 / +251 155 489 51 / +251 911 215 466
Email: tadessek@tadessekiros.com
Official Website:
https://tadessekiros.com
---
---
FJA law office is a law firm in Ethiopia that specializes in foreign investments, international trade, corporate and commercial law as well as transnational and dispute resolution related to these fields.
Their main objectives are to help clients succeed in the Ethiopian market by providing strategic legal advice and innovative solutions to help them gain or maintain market access for the goods they make and the services they provide.
Our extensive experience serves as a legal gateway for foreign and domestic companies seeking to do business. This has enabled us to deliver an unparalleled legal service on trade, investments and corporate matters.
Their practice areas include:
Investment Law, International Trade Law, Company Law and Corporate Governance, Commercial Contracts and Agreements, Intellectual Property, Privatizations, Secured Transaction Law, Merger and Acquisition, and Competition Law and Policy.
---
Contact
Telephone/Mobile: +251 911 345 462
Email: info@fjalawoffice.com / fatihj@gmail.com
Official Website:
https://fjalawoffice.com
---
---
Mesfin Tafesse and Associates (MTA) is an Ethiopian corporate law office that focuses on providing quality and timely legal advisory services in business sectors.
This Ethiopian law firm has been involved in corporate legal advice for over a decade now, and their clients are made up of a plethora of entities.
Mesfin Tafesse and Associates serves domestic clients, national and global multinational corporations, private equity and strategic investors, banking and development finance institutions, professional firms, as well as, public organizations.
They are members of the Ethiopian Lawyers' Association (ALA), the African Legal Network (ALN): a premier alliance of top level independent law firms in Africa and the Employment Law Alliance (ELA): the largest network of labor and employment lawyers worldwide.
Furthermore, Mesfin Tafesse and Associates is ranked by Chambers and Partners as Band 1 Legal Service Provider in Ethiopia, Tier 1 law office by Legal 500 and Tier 2 law office by ILFR1000.
Their practice areas include:
Corporate and Commercial Law, Mergers and Acquisitions, Taxation, Power and Energy, Mining, Manufacturing and Industries, Banking and Finance, ICT and Telecom, Construction and Real Estate, Employment and Immigration and Dispute Resolution.
---
Contact
Office Address: Cape Verde Street, Close to the European Union Delegation to Ethiopia in Tensae Bld., 2nd Floor, Office # 001, P. O. Box 8867, Addis Ababa, Ethiopia
Telephone/Mobile: +251 116 672 341 / +251 116 672 271 / +251 912 507 676 / +251 11 667 2389
Email: info@mtalawoffice.com
Official Website:
https://mtalawoffice.com
---
---
Gets Law Office was established by 3 lawyers (Seyoum Yohannes, Tewodros Meheret, Gebreamlak), who had over 10 years each of experience independently practicing law in Ethiopia.
The three managing partners came together to create Gets Law Office in an effort to increase their depth and array of resources, thereby hoping to create more value for their clients.
They collaborate as a task-force on all matters requiring their counsel, along with a wide variety of expertise, they have on call.
Gets Law Office specializes in the creation of Ethiopian business entities, their licensing, governance, merger, acquisition, restructuring and insolvency, as well as, concluding contracts from inception all the way to closing deals.
They also assist in negotiating, drafting and reviewing contracts in fields such as procurement, franchising, distribution, construction and real estate in Ethiopia.
Gets Law Office also focuses on the financial sector, tax, competition and consumer protection laws.
Their practice areas include:
Competition (Antitrust), Construction and Real Estate, Employment, Financial Services, Intellectual Property, Corporate, Mergers and Acquisitions, Energy, Infrastructure and Mining, Non Profit Organizations, Tax, Litigation and Arbitration, Franchising and Distribution, Information and Telecommunications Technology, Public Procurement, Restructuring and Insolvency.
---
Contact
Office Address: Africa Avenue, Bedesta Bldg., 2nd Floor, Rm # 201, Addis Ababa, Ethiopia
Telephone/Mobile: +251 11 854 6064
Email: info@getslaw.com
Official Website:
https://getslaw.com/
---